---
Environment: Over 80 people attend book launch for 'The Burning Question'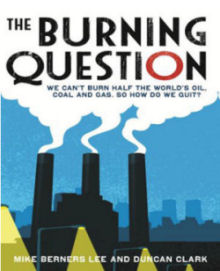 Over 80 people attended the book launch for "The Burning Question - we can't burn half the world's oil, coal and gas. So how do we quit?" by Mike Berners-Lee and Duncan Clark in LEC last Friday.
Attendees included staff from across Lancaster University, LEC resident businesses Strategic Energy, Stopford Energy and Environment and WT Infotech, and InfoLab21 resident business Next World Web.
External attendees included representatives from Facilitation & Consultancy For Change, the European Commission, the Green Party, the Blackburn Diocesan Rural and Environmental Project and The Storey.
Dr Ruth Alcock, Head of Enterprise and Business Partnerships, Lancaster Environment Centre, commented "It was great to see so many staff and businesses there all energised and enthusiastic about this important issue.
"Lancaster is extremely well placed to develop leadership in this area and we're fortunate to have Small World Consulting as one of our co-located companies defining and contributing to the research agenda."
An extended interview with Duncan Clark and Mike Berners-Lee about their book featured as the Science Weekly podcast in The Guardian this Monday.
Wed 01 May 2013
---