---
Engineering students make finals of national start-up business competition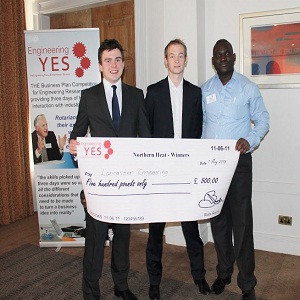 Engineering students Scott Nash, Daniel Richardson and Aaron Aboshio have won the northern heat of the Youth Entrepreneurs Scheme 'Engineering YES' competition for their spin-out renewable energy company Atlantis.
Engineering YES is a three day competition for postgraduate students and post-doctoral researchers to present a business plan for an imaginary start-up company to a group of investors and industry experts.
Experienced mentors drawn from commercial and engineering sectors provide one-to-one advice on all aspects of commercialisation and help the competitors develop their plans.
"At the end of the course we had to pitch our business plan to four judges. These judges were potential investors and who we were persuading to invest in our business. Each judge had extensive knowledge and experience in business, so they were well equipped to give us a grilling!" Scott Nash explains.
The students asked the investors for £700k to take their product, a wave energy convertor, to the next stage of production, from a 1/30 to a 1/3 scale, with various exit strategies. Their idea was to build, evaluate and then eventually sell off the product and company.
Daniel Richardson commented, "This competition was eye-opening. It let me see just how challenging, but rewarding, starting an engineering business can be. The advice and mentoring from real business professionals was invaluable in developing my own ideas for a business start-up. I cannot recommend this programme highly enough."
Aaron Aboshio added, "I wish I had the knowledge and skills derived from the event well before now, this will definitely help me review my business plan for the small engineering consultancy outfit I currently run."
As well as impressing the judges and winning top prize of £500, the team also shared an additional peer review prize of £250 with another team.
Scott added, "We couldn't have done it without the help and support of Pam Pickles (Science and Technology Student Employability Manager) and Jon Powell (Lancaster University's Enterprise Team Manager).
"Not only did they manage to secure the funds for us to go, but they also supported us by gathering a board so we can present our business plan again before the finals. We'd also like to thank Gavin Smith (Lancaster University IP Development Manager) for his advice on IP prior to the heats."
The team is now preparing for the grand final in Birmingham on June 19th, where the top 2 entries in each heat will compete for more cash prizes.
Thu 23 May 2013
---