---
Chinese delegation visits Lancaster to develop joint International Research and Innovation Centre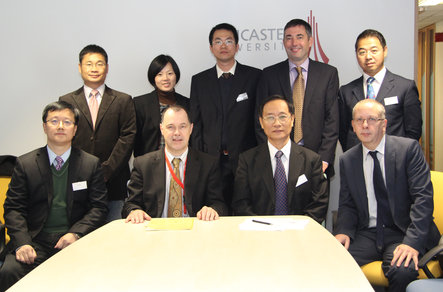 Scientists and business leaders from China visited Lancaster Environment Centre (LEC) last week to develop plans for the International Research and Innovation Centre for the Environment (IRICE). Their visit builds on the IRICE launch in Guangzhou earlier this year.
IRICE is a joint initiative between the Chinese Academy of Sciences (CAS) and Lancaster University (LU). Two CAS Institutes lead the engagement - the Guangzhou Institute of Geochemistry (GIG) and Institute of Urban Environment (IUE), Xiamen and has been endorsed and supported by the UK Foreign and Commonwealth Office (FCO).
The over-arching purpose of IRICE is to provide a vehicle to enable the partners and collaborators to conduct collaborative world class research on environmental issues of global concern and support environmental innovation and research, business and consultancy on environmental topics and technologies.
The 14 guests from China included business leaders from Guangdong Province (Dr Lu Zeng, Director of Exchange and Cooperation Division, Mr Zhitong Zhang Deputy Director of Business, Education and Research from Guangdong Provincial Department of Science and Technology and Mr Xuan Jia, Science and Technology Bureau, Foshan City), scientists from the Chinese Academy of Sciences (Professor Jun Guo, Vice-president and CCP Secretary General, Guangzhou Branch, Mr Xiaofeng Lu , CAS Bureau of International Cooperation, Professor Gan Zhang, Deputy Director of Guangzhou Institute of Geochemistry, Ms Ping Xia, Deputy Director of Guangzhou Institute of Geochemistry, Ms Wei Wen, Director of Foreign Affairs Office, Guangzhou Institute of Geochemistry, Mr Changhua Wang, Deputy Director of CAS Foshan Centre for Environmental Technology and Dr. Chunling Luo, research scientist), a senior scientist from the Pearl River Basin Water Resources Protection Bureau (Professor Xinyuan Liu, Chief Engineer) and senior representation from the Chinese Embassy in London: Mr Futao Chen, Minister Counsellor in Science and Technology, Mr Zhongcheng Wang, First Secretary) and Ms Ming Liu (Head of Science and Innovation) from the British Consulate General Guangzhou.
The new UK-China Centre will grow both research and new business partnerships across China with a focus on innovative solutions for environmental and human health protection. The platform will act as focus for innovation and will create and encourage opportunities for UK business growth specifically in relation to environmental technologies across soil, air and water resource protection.
Speaking about the exciting range of opportunities the Centre will bring Professor Kevin Jones, LEC Director said 'working in and with China has brought tremendous opportunities for us. We are honoured to have hosted our guests and excited by the scale of the ambitions being discussed'.
For further information about IRICE and research/innovation opportunities in China, please email Dr Hong Li.
Tue 23 October 2012
---