---
Could you solve a business problem in your sleep?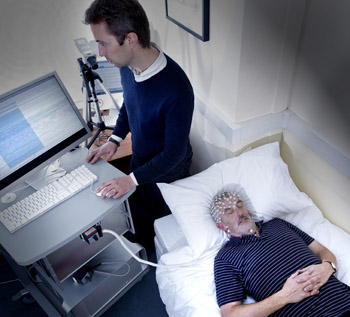 A new study from Lancaster University has found that sleeping on a problem really can help people to find a solution, but only if it is a difficult problem.
The study, published last week in the journal Memory & Cognition, tested whether sleep or time spent awake worked best in helping people find the solutions to a range of problem solving tasks.
Participants in the study - 27 men and 34 women - were asked to attempt easy and difficult verbal insight problems and, following a period of sleep, time spent wake, or no delay at all, the three groups of participants reattempted previously unsolved problems. The sleep group solved a greater number of difficult problems than did the other groups, but no difference was found for easy problems.
The authors of the study - Ut Na Sio, Padraic Monaghan and Tom Ormerod all from the Centre for Research in Human Development and Learning at Lancaster's Department of Psychology - concluded that sleep facilitates problem solving but this has its primary effect for harder problems.
Professor Padraic Monaghan said: "Our study shows that this sleep effect is greatest when the problems facing us are difficult. Sleep appears to help us solve problems by accessing information that is remote to the initial problem that may not be initially brought to mind. The advice stemming from this and related research is to leave a problem aside if you're stuck, and get some sleep if it's a really difficult problem."
Professor Monaghan and his team are seeking businesses and other organisations who are interested in working collaboratively and applying research on creativity and problem solving in your work place.
All entrepreneurs are arguably problems solvers and one of the most common ways to start a business is to think about a problem or need you have that is not properly addressed by existing suppliers. As Thomas Edison stated "I never perfected an invention that I did not think about in terms of the service it might give others... I find out what the world needs, then I proceed to invent."
Sleep has reportedly provided great inspiration, for example it is said that Salvador Dali would intentionally go to bed balancing a spoon on his hand above a plate so that when he fell asleep, the spoon would fall onto the plate and wake him. He would then sketch his dream images. According to biographers of McCartney and the Beatles, Paul McCartney composed the entire melody of the hit song Yesterday in a dream and hurriedly wrote it down on waking.
Who knows what business problems could be solved or businesses started if we all started to actively use sleep creatively?
To get involved, contact Professor Padraic Monaghan and his team, Tel: +44 (0)1524 593698 email: p.monaghan@lancaster.ac.uk
Wed 28 November 2012
---