---
Dr Mark Rushforth
Head of Business Partnerships & Enterprise, Physical Sciences
My role as Head of Business Partnerships and Enterprise, Physical Sciences includes the management of the new Impact Acceleration Account from the EPSRC and support for the development of proposed ERDF investments in physics, chemistry and engineering.
I have a PhD in Materials Engineering from the University of Birmingham and previously worked in grant capture roles at Dublin City University and Coventry University, predominantly focusing on collaborative proposal development for EU Framework 6/7 and Technology Strategy Board funding schemes.
I work as part of a wider team to develop partnerships with businesses across Energy Lancaster, the Quantum Technology Centre, the Department of Mathematics and Statistics and Advanced Manufacturing.
I also work as part of a wider multidisciplinary team across Science and Technology at Lancaster and can link in with experts in the Environment, Health and Human Development, Information and Communication Technologies, Mathematics and Statistics and Security to complement our expertise.
There are a range of mechanisms for businesses to engage with researchers within Physical Sciences. These range from student placements, contract research, professional development and multi-partner collaborative research projects. Lancaster has an established track record in working in collaboration with a variety of external organisations and we are keen to develop new and existing partnerships.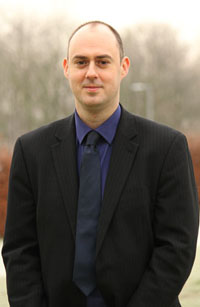 Contact Details
Tel:

Direct Line: +44 (0)1524 593 904
Mobile: +44 (0)7964921891

Email:
---