---
Professional Training to Business and Industry
We provide a portfolio of courses for industry and professionals both in the UK and abroad. By sharing our expertise we improve the competitiveness and productivity of individuals and organisations through better use of knowledge, technology and skills.
Benefits of Professional Training
Flexible, part-time programmes designed for busy professionals
Essential skills needed by employers to develop their workforce
Opportunities to enhance career paths and improve employability
UK and international delivery
Current Professional Training Courses
The following CPD courses have been co-designed and developed with industry partners:
Waitrose - Training courses for the Waitrose supply chain
Lancaster has a strategic partnership with Waitrose and their suppliers of fresh produce called the Centre for Sustainable Agriculture. Through the joint operation of an on-line communications portal we work together to raise the profile of food security issues with the general public and particularly with young people. We collaborate to spread best practice in sustainability through the UK food supply chain.
Waitrose provides financial support to the university for research in soil biology, ecosystem services and integrated pest management. Lancaster organises innovation training programmes for suppliers and producers. In the past these typically been full days of workshops with expertise from Lancaster (and other partners) to their supply chain from 1 day to week long courses.
The Reach Centre- Postgraduate Certificate of Competence in REACH Registration
Designed to advise the chemical manufacturing and using industry on the REACH (Registration, Evaluation and Authorisation of Chemicals), regulations, this course provides an understanding of the different stages in the process and activities that must be completed in order to successfully register substances and continue trading in the EU. This course is delivered over three modules in conjunction with the LEC 3 resident company, The Reach Centre.
The course covers all aspects of the Energy and Fuels from Waste (EFFW) industry. These include financial, technical, operational and regulatory aspects, and is aimed at new entrants and experienced practitioners alike. Each of the three modules features site visits to operational facilities in the NW region, with presentations delivered by some of the sector's leading industrial, academic and regulatory experts. This course is delivered in conjunction with Lancaster Environment Centre resident company, Stopford Energy & Environment Ltd.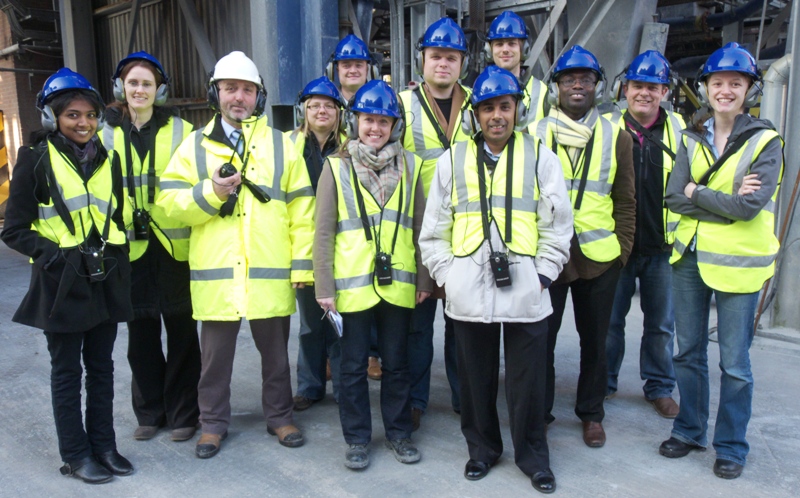 JBA Consulting- Postgraduate Certificate in Flood and Coastal Risk Management
This new course provides flexible and accessible postgraduate training which is focused on the practical application of skills and best practice industry standard techniques in the context of the latest legislation, guidance and policy. The course can be taken as a Postgraduate Certificate (60 credits) or Diploma (120 credits) by taking two modules from the Sustainable Water Management MSc. All modules are also available individually as short courses which can be taken with or without the assessment component. The course is delivered in conjunction with JBA Consulting.
Unilever(Postgraduate Module delivery)- Safety and Environmental Impact Assessment: An Industrial Perspective
The five-week programme on 'Safety and Environmental Impact Assessment: An Industrial Perspective' covers the link between science theory and industry by examining chemical and environmental impact safety assessments. Students receive a unique insight into real-world issues that industry is tackling. The course, organised by Professor Frank Martin in the Lancaster Environment Centre, is delivered exclusively by Unilever scientists who have internationally pioneered state-of-the-art biological approaches that look at the risk from chemical exposures in the environment and in consumer products.
Professor Paul Carmichael from Unilever said: "We believe this is the first course of its kind. It is a win-win for all involved."
The Environment Agency- Undergraduate Module LEC 201 "Business Planning for the Environment"
The Environment Agency, who have office space in Lancaster Environment Centre, teach a module which focuses specifically on the development of academic and practical skills relevant to gaining employment with environmental companies and related organisations.
The module provide students with opportunities to learn about the role of the environment and climate change as driving forces for business innovation and commercialization, and gain an understanding of the main features and types of businesses, their core operating activities, governance and regulation. It allows them to explore the specific commercial opportunities the environment and climate change adaptation and mitigation offer, gain experience of real business environments and insights from people running businesses, and de-mystifies the processes of working with and in a business.
Remedios guest lecture on the Postgraduate Programme "Contamination, Risk Assessment & Remediation"

URS guest lecture on the Postgraduate Programme "Contamination, Risk Assessment & Remediation"

Other Courses
Postgraduate Statistics Centre
Our Postgraduate Statistics Centre delivers courses designed around statistical learning, aimed at scientists, social scientists, health researchers, teachers and professional medical statisticians. The courses cover a wide variety of topics including structural equation modelling and clinical trials methodology. Courses are modular, with some held annually at Lancaster and some available for commission globally.
Medical and Pharmaceutical Research Unit
Security
Security Lancaster offers a range of workshops and bespoke continual professional development to share our knowledge.
Developing New Courses
We work closely with departments across Science and Technology, the wider university and other institutions, research councils, government agencies and industry. As well as providing masters, doctoral and short training programmes, we can meet specific training needs through tailored in-house and bespoke courses and welcome requests for new training programmes.

Contact
Becky Gordon Operations Manager
+44 (0)1524 510188
Paul Wiseman Global REACH Coordinator, Weatherford UK Limited
"I chose the course because I wanted to be able to competently handle REACH and IUCLID 5 issues for my company and the Postgraduate Certificate in Competence in REACH Registration course provided all the training I needed. I felt it was well delivered by experts in the field, with enough hands-on experience and practical examples to allow me to confidently manage all aspects of REACH registration."
---