---
Science and Technology Christmas Conference
Tuesday 16 December 2014 - Management School Building
Science and Technology Graduate School Poster Competition: Call for Posters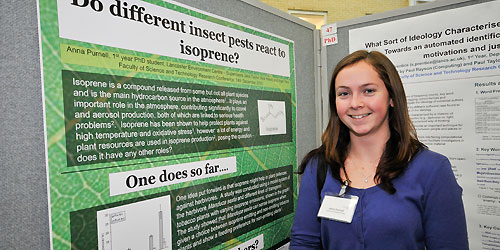 Faculty research students are invited to submit a poster for the Science and Technology Graduate School Poster Session at the Science and Technology Christmas Conference. Presentation of a poster will qualify PhD students for 2 Research Training Credits.
Who Can Enter?
All current faculty research students, at any stage of their research, are eligible. A first prize of £200 will be awarded, with two runner-up prizes of £100. Recently completed PhD students are also eligible provided their viva took place after 30th June .
There are 60 available poster slots, and places will be issued on a 'first to submit' basis, providing that what is submitted is suitable. Successful applicants will be notified when submission closes on Monday 24 November 2014.
Format for Posters
Posters must describe the author's work and be intelligible to the general science and technology community, not just discipline specialists. Poster authors must be present during the poster session on Tuesday 16 December and be available to hang their posters on the afternoon or evening of the day before the conference.
Posters must be of A0 size (portrait or landscape), must not have been presented at a previous Science and Technology Christmas Conference and must clearly display:
The author's name
The stage of the author's work (e.g. 1st, 2nd or 3rd year or part-time equivalent)
The title of the author's work
The author's department
The author's supervisors' names
Failure to display these pieces of information will disqualify the author from the chance to win a prize.
Please note, if you wish to use a recently created poster presented at a different conference you may do but it must have been from the last 3 months. Anything older and/or in bad condition will not be displayed on the day.
Enter Online
Effective Poster Design
Some handy guides to effective poster design can be found at:
You can also view previous winning posters from past Christmas Conferences.
Judging
Posters will be judged by your peers, as well as by staff and visitors. Everyone will have a voting card where they can nominate their favourite posters. You should consider the following criteria:
Communication:

does the poster communicate ideas to a non-specialist audience well?

Content:

does the work appear sound? Is it interesting and engaging?

Presentation:

is the poster well designed? Does it draw your attention?
The winners will be announced by the Faculty Dean during the afternoon of the conference.
---