---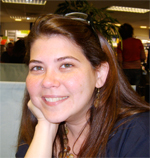 Marcia Tavares Smith
Research Student
InfoLab21
Lancaster University
Bailrigg
Lancaster
United Kingdom
LA1 4WA

My research aims to understand how the confluence of digital innovations and a culture of co-creation is affecting the clothing industry. The main focus is on how new models of businesses and services could instigate amateurs to create their own clothes with the help of digital innovations.
My research interests include: co-design, digital fabrication, the role of design and designers and design management.
Marcia Tavares Smith's Publications
2013
Tavares Smith, M., Cooper, R. & Blair, G. 05/2013 Digital fashion 2013: the proceedings of the 1st international conference of digital fashion. D. F. . S. (ed.). London: Digital Fashion 2013 Secretariat, p. 246-253 8 p.
Research output: Contribution in Book/Report/Proceedings › Paper
2012
Smith, M., Blair, G. & Cooper, R. 2012 Design Frontiers - territories, concepts, technologies: ICDHS 2012 - 8th Conference of the International Committee for Design History & Design Studies.. Farias, P., Calvera, A., Braga, M. & Schincariol , Z. (eds.). São Paulo: Blucher Publishing House, p. 436-440 5 p.
Research output: Contribution in Book/Report/Proceedings › Paper
---