---
Plants Mitigating Global Change via Sustainable Biofuel Production
Friday 20 July 2007, 1030-1200
Lancaster Environment Centre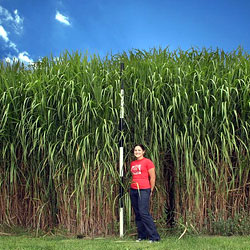 A talk by Professor Steve Long of the Department of Crop Sciences, University of Illinois at Urbana-Champaign.
Much fundamental plant biology research of the last 50 years has been driven by the perceived need to underpin improved global food production. Food crop production has improved so much over this period that grain prices have fallen progressively relative to the cost of living.
Plant biotechnology has played an important part in this success. At the same time Environmental sciences have given precision to the atmospheric change and its impacts on plants and the biosphere. Plant biology in combination with environmental sciences has been presented a new grand challenge: mitigation of global atmospheric change in particular via sustainable biofuel production while maintaining food production.
A Presidential goal set for the US is to replace 30% of current petroleum use with cellulosic ethanol by 2030. The EU is committed to progressively replacing fossil fuel with renewable energy or compensating fossil fuel use with carbon sequestration.
Detailed analyses suggest much of this might be achieved via plants. Our existing annual crop plants are poorly suited to the task, which will require perennial systems ranging from alfalfa and Miscanthus to poplars and willows. This requires a second Green Revolution. One which will not only exploit biotechnology but one that will integrate plant biology research from environmental physiology to genomics and taxonomy to metabolomics to address this grand challenge.
Needs range from developing perennials with much higher efficiencies of resource use than our existing crops that produce biomass readily digested by cellulases, to trees with root tissues modified to minimize decomposition and so maximize carbon sequestration.
Our research with Miscanthus will be used to show the real potential of plant biology to address the challenge of sustainable and renewable biofuel production without detriment to food production.
---