---
In Pursuit of Pulsars
Wednesday 08 April 2009, 1600-1700
Lecture Theatre 1, Lancaster University Management School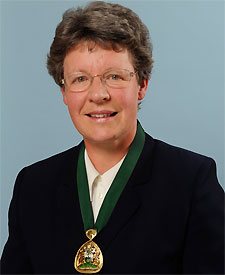 Pulsars, or neutron stars, are some of the most bizarre objects in the galaxy. Their discovery 40 years ago took the astronomical community by surprise and they are still springing surprises on us.
Like lighthouses in the sky they may one day be used as navigation beacons for interstellar travel. Meanwhile they have stretched our understanding of the behaviour of matter, and serve as very accurate clocks to check out Einstein's theory of relativity.
This talk will be accessible to scientists of all ilks and ages and will provide an introduction to these incredible objects.
Professor Dame Jocelyn Bell Burnell
After three years as Dean of Science at the University of Bath, Jocelyn Bell Burnell 'retired' in 2004, and moved to a Visiting Professorship at the University of Oxford and a Professorial Fellowship at Mansfield College, Oxford.
For ten years she was Professor of Physics at the Open University, and had a year as a Distinguished Visiting Professor at Princeton University, USA.
---