---
The Challenge of Climate Change
Thursday 22 October 2009, 1400-1500
Lecture Theatre 2, Management School Building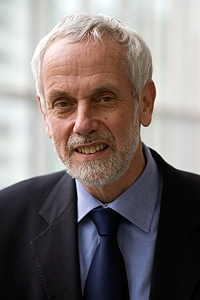 Sir Brian Hoskins of Imperial College (and Director of the Grantham Institute for Climate Change) will be giving this term's Faculty Seminar entitled "The Challenge of Climate Change".
Brian's talk will highlight the achievements of climate science, its limitations and the challenge to the science. He will also discuss the role of the UK Climate Change Committee (which is a member of) and its analysis of the possible limitation of climate change, the technologies to achieve this, and the challenges that have been set for the UK.
Sir Brian Hoskins is a Royal Society Research Professor with research interests in weather and climate, and especially the understanding of atmospheric motion from frontal to planetary scales. His international roles have included being vice-chair of the Joint Scientific Committee for the World Climate Research Programme and President of the International Association of Meteorology and Atmospheric Sciences. He has also had numerous UK roles, including playing a major part in the 2000 Report by The Royal Commission on Environmental Pollution that first proposed a 60% target for UK carbon dioxide emission reduction by 2050, and is currently a member of the UK Committee on Climate Change.
He is a member of the science academies of the UK, USA, China and Europe and has received a number of awards including the top prizes of the UK and US Meteorological Societies and an honorary DSc from the University of Bristol. He was knighted in 2007 for his services to the environment.
Watch Online
Associated Links
Committee on Climate Change - an independent body established under the Climate Change Act to advise the UK Government on setting carbon budgets, and to report to Parliament on the progress made in reducing greenhouse gas emissions
---