---
National Science and Engineering Week 2010
Mon 15 - Fri 19 March 2010
Lancaster University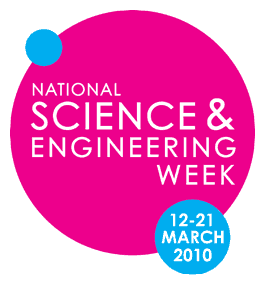 As part of National Science and Engineering Week 2010 Lancaster University are holding a series of activities to promote Science and Technology to school students.
The activities are spread across five days (approx 10am-3pm) and are aimed at year 10 and 11 students.
Monday 15th March
The Department of Mathematics and Statistics will offer a series of talks and practical sessions, including an interactive lecture on maths and magic and a lesson on how to become a billionaire with GCSE Maths!
Have you ever wondered what is in blood? In this hands-on biology session, you will have the opportunity to find out about the different kinds of cells in sheep blood and what they do.
Tuesday 16th March
Five minutes ago there was a massive explosion in the middle of a highly built-up area. A fire is raging out of control. The emergency services need to know where to concentrate their ambulances, fire engines and so on. The Police need to know which streets to evacuate. What are the risks? What happens if it rains? What do you tell the journalists knocking on the door?
In a session looking at disaster management, staff from Lancaster Environment Centre (LEC) will ask students to put themselves in the place of the Civil Contingencies Team that responds to severe accidents in and around Lancaster.
Wednesday 17 March
Engineering and Physics Bottle Rocket Challenge. The students will spend the day looking at the basic mechanics of rockets, the effect of thrust, and air resistance before designing and constructing the rockets. The afternoon will involve launching the rockets and evaluating performance.
Thursday 18th March
Computing and Communication Systems will offer students interactive sessions looking at mobile phone technology and how computer scientists have to be able to understand and design the embedded systems which keep our technology-reliant world running.
Friday 19th March
Mind Games: Psychology in Action. Students will discover real-world applications of the science of psychology. They'll experience how the mind is tricked by illusions of vision, audition, and attention, and will learn about the different roles of the hemispheres of the brain.
Electric Earth: The Earth is alive with electricity! This new show will take the audience on a high voltage journey deep into our planet's electric personality. As well as familiar atmospheric electricity such as lightning, the Earth sits at the centre of an electric current circuit that stretches far out into space and is driven by our planet's electromagnetic link to the Sun.
(For further information please download the session details via the link below.)
We hope students will find these sessions both informative and fun, and that they will be encouraged to keep studying science and technology related subjects within school.
Due to a great response we only have limited places available. If you are a teacher and are interested in sending students to one or more of these sessions please get in touch with Alan Darragh via the SciTech Schools Programme link below.
---