---
Postgraduate Show -Innovate 2010
Wednesday 08 September 2010, 1100-1300
InfoLab21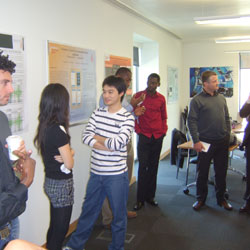 InfoLab21 students will be showcasing their latest research and technologies at this year's annual Innovate Show.
InfoLab21's School of Computing and Communications invite you to come and talk to the students about their projects. They are keen to meet researchers from other Departments in the University and Industry who are interested in interdisciplinary projects.
The event will display postgraduate project work on autonomous robots, informatics, DSP applications, wireless and space communications, mobile services, software integration for 3D graphics modeling.
The show, presented by MSc students will run from 11am to 1pm on the 8th September with poster presentations on B Floor in InfoLab21.
Registration
For enquiries please email:
Phillip Benachour p.benachour@lancaster.ac.uk or
Lynne Haley l.haley@lancaster.ac.uk
Telephone: 01524 510 387
---