---
Building Cycling Cultures
Sat 04 - Sun 05 June 2011
Phoenix Square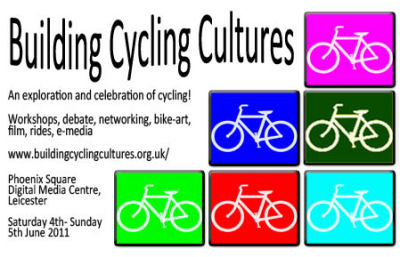 This event is being co-organised by Dave Horton (Understanding Walking & Cycling, Lancaster University), Rachel Aldred (Cycling Cultures Project, University of East London), Andy Salkeld (Leicester City Council's Cycling Officer) and John Coster (Citizen's Eye).
Building Cycling Culture/s will have guest international speakers and showcase findings from two major academic projects into cycling. There will be workshops aimed at building cycling culture/s, as well as an exciting range of bike-related cultural activities - films, rides, stalls, bike art, music, e-media.
More details, including a full programme with information about all workshops and various other cultural activities, will be released nearer to the time.
---