---
Chemistry at Lancaster - A vision for the future
Professor Peter R Fielden, Head of Chemistry, Lancaster University
Tuesday 18 December 2012, 1100-1200
Management School Building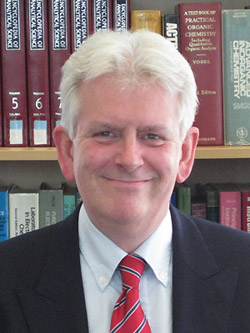 The renaissance of Chemistry at Lancaster presents exciting new opportunities to construct a department that has at its core the ability to lead and innovate as well as collaborate and generate impact in new fields of application.
In his talk, Lancaster's new Head of Chemistry will present the strategic vision for the new department, and will explore the associated opportunities to stimulate vibrant interdisciplinary research at Lancaster and beyond.
Analytical Science, the Measurement Science of Chemistry, pervades all our lives from the cradle to the grave. Our modern lives depend on measurements for healthcare, environment, food, water, and security.
Micro-fabrication techniques have enabled the generation of miniaturised analytical techniques, popularly described as 'lab-on-a-chip'. Diverse applications range from explosives residue analysis for security to DNA assays for early cancer detection.
Nano-droplets are minute, individual 'test-tubes' for analysis paving the way towards a new generation of techniques for drug discovery and new approaches to life-science measurements. Such technologies offer great potential for the future.
Peter Fielden
Professor Fielden comes to Lancaster from Manchester University. He graduated in Chemistry from Imperial College, London, and was later awarded a PhD at UMIST. Professor Fielden chairs the Royal Society of Chemistry Electroanalytical Sensing Systems Group and is a Scientific Advisor to the UK government.
---