---
The Journey to a Smarter City
Rashik Parmar, IBM Academy of Technology
Wednesday 06 March 2013, 1300-1500
C74 InfoLab21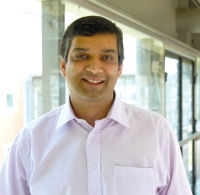 The city infrastructure is trying to cope with unprecedented levels of demand. At the same time technology allows us to capture more information about the city and achieve higher levels of optimisation. During this talk Rashik will explore the challenges and opportunities of using this new information to evolve to Smarter cities and cope with the increased demands.
Rashik is President of IBM's Academy of Technology and also a Distinguished Engineer. During his twenty nine years of practical experience in IBM, he has worked for financial, retail and manufacturing clients on IT projects of all sizes. Overall, he specialises in ensuring the technical success of complex IT projects. He currently leading projects related to IBM's Smarter Cities programme and development of techniques to drive industry level innovation.
Rashik is also IBM's Partnership Executive for Imperial College - London. He is also an Adjunct Professor for Department of Innovation and Entrepreneurship at the Imperial College Business School and Visiting Professor to the Intelligent Systems and Networks Group at the Department of Electrical & Electronic Engineering.
Summary of talk
Watch the full talk
---