---
Café Scientifique: Five loaves and two fishes: can local food feed the world?
Dr Rebecca Whittle, Lancaster Environment Centre
Wednesday 06 March 2013, 1930-2030
The Robert Gillow, Lancaster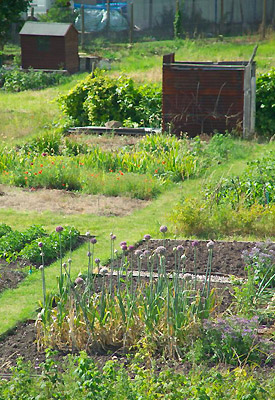 With the world's population projected to reach 9 billion by 2050 there is talk of a global food security crisis.
Across the globe, a range of initiatives are taking place in an attempt to avert this crisis, from scientists working to develop crops that will be more resistant to the impacts of climate change, through to the development of new, hi-tech forms of urban farming which could see food being grown in disused office blocks.
But what about smaller, more local and community oriented 'grow your own' initiatives - such as the rise of urban foraging, community and 'guerrilla gardening'? Such initiatives are often overlooked because the volume of food that they produce is relatively small. Beccy Whittle argues, however, that they remain a vital component of food security, since they have the potential to transform the ways in which we relate to the environment and each other...
Dr Rebecca Whittle
Beccy Whittle is a senior research associate in the Lancaster Environment Centre at Lancaster University. As a keen 'allotmenteer' and community gardener (and, less importantly, a social scientist with nine years experience of working on environmental research projects!), she is passionate about researching and developing local and alternative food systems which combine environmental sustainability with social and community benefits.
Café Scientifique
Café Scientifique is a place where, for the price of a cup of coffee or a glass of wine, anyone can come to explore the latest ideas in science and technology. It is an informal non-academic event and everyone is welcome.
A new group for Lancaster has been formed, and the talks to date have been well-attended with lots of discussion. They host a Café on the first Wednesday of each month at the Robert Gillow Pub in Lancaster.
---