---
Science and Innovation Challenges - United Utilities
Tony Conway, Strategic Programmes Director, United Utilities
Wednesday 12 June 2013, 1200-1400
Lecture Theatre, Charles Carter Building (A15)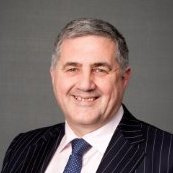 Tony is an Executive Director of United Utilities, a water and wastewater utility company serving seven million customers in the north west of England. In a career of over thirty years he has led asset management, operations and engineering functions, as well as business change, transformation and regulatory programmes.
In his former Executive role of Strategic Asset Planning and Engineering Director, he was responsible for strategic asset management, the company relationship with quality regulators the Drinking Water Inspectorate and the Environment Agency, engineering activity relating to the delivery of a £3.6 billion capital programme, the 2014 regulatory price review submission to Ofwat, and shaping the company's future concept of operation together with delivery of the related change programme.
In December 2012 he took up the Executive role of Strategic Programmes Director (with an informal title of Director of Curiosity), where his focus is identifying innovation together with leading thinking and practice from around the world.
Tony is also a Chartered Engineer, Fellow of the Institution of Civil Engineers, a Director of UK Water Industry Research Ltd and a member of the Water UK Environmental Policy Advisory Group.
Tony's talk will cover some of the science and innovation challenges that United Utilities are facing.
---