---
The Burning Question
Mike Berners-Lee, Director of Small World Consulting
Wednesday 17 July 2013, 1900-2100
Lake District National Park Authority, Kendal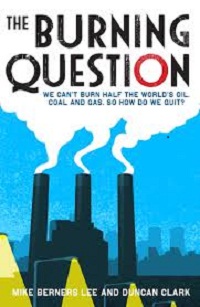 Author and director of LEC resident company, Small World Consulting, talks about his new book, The Burning Question, which examines why the world's fossil fuel consumption keeps rising exponentially, despite all our efforts to cut it.
The world has far more fossil fuel in its reserves than it can safely burn - at least twice as much and perhaps ten times as much, the book explains. These reserves are worth tens of trillions of dollars and solving the problem of climate change means persuading the world to abandon them.
The Burning Question, written with Duncan Clark, discusses ways to make this happen, and how the global economy could weather the shock.
The book is already getting noticed in high places. A recent book launch and panel discussion in the House of Lords attracted politicians, top businessmen (including from the fossil fuel companies) and climate campaigners.
"There was standing room only. The event was supposed to run from 6.30 to 8.30 but people were still chatting when they closed the building at 10pm," said Mr Berners-Lee.
Former US Vice President, Al Gore, praises the book as "Fascinating, important and highly recommended."
The Kendal talk will be followed by facilitated workshops to discuss what action can be taken at local level to address these global issues.
The venue for the talk is:
Lake District National Park Authority
Murley Moss
Oxenholme Road
Kendal
LA9 7RL
---