---
Synergize 2014
Various speakers
Mon 22 - Tue 23 September 2014
George Fox Building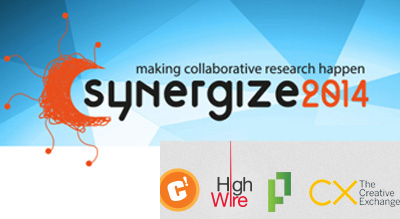 The synergize2014 conference at Lancaster University will bring together innovators from across the academic spectrum and from a variety of business and community backgrounds, to celebrate exemplar projects, and demystify the practices and terminologies associated with collaborative research.
The conference will focus upon multidisciplinary work with keynote speakers, panel discussions, debates and interactive exhibitions featured within five topic themes: co-design, research in the wild, citizen science, research partnerships, engagement and impact.
The conference will integrate academic excellence with practical impact, to impart values of rigorous research and high standards, whilst also working with citizens, industry, business and community organisations. synergize2014 will be a forum for practitioners, researchers and academics, across all disciplines with equal emphasis on theory and practice.
With a fantastic line-up of keynote speakers including innovator and author Charles Leadbeater, an adviser to companies, cities and governments around the world on innovation strategy.
Who should attend?
Academics, researchers, industry professionals, technologists, business and SME's, charitable and community organisations, students, or individuals with ambitions for new research partnerships. This may include individuals with interests in computing, art and design, business, management, social scientists, practitioners of innovation, established academics and early career researchers.
For more information please go to the Conference Website at www.synergize2014.org.
---