---
Dean's Awards: Excellence in Postgraduate studies
The Faculty of Science and Technology offers annual awards to recognise excellence in doctoral research.
The awards, now in their second year, take the form of a financial top-up (currently £1000) for the subsequent year to the student's stipend.
Three awards are made each year: one each to student in the first, second and third year of their PhD. Each department is invited to nominate up to three students - one student for each category.
Guidelines for submitting a nomination
Departmental PhD Tutors/Directors of PGR should decide which student they wish to nominate for each award and submit their nomination by 31st August. To be eligible for nomination, the student must be in their first, second or third year of study (excluding periods of intercalation) on the closing date for nominations. Students who are already in the fourth year of study or beyond are not eligible.
All nominations must be submitted on a proforma available from the Faculty Graduate School Administrator. This form will include the nominee's year of study, expected completion date and a summary of their achievements, highlighting the metrics and evidence that demonstrate excellence in the discipline. Comparisons against normal satisfactory levels should be used to outline the outstanding achievements of the candidate.
The nominations will be evaluated by a cross-departmental panel and the awards presented by the Dean for Postgraduate Studies at the annual Science and Technology Christmas conference.
More Information
For advice on The Dean's Award for Excellence in Postgraduate Studies, contact the Graduate School Administrator:
Dr Simon Vaukins
Graduate School Administrator
B28 Engineering
Email hidden
Ext. 94922

2014 Dean's Award Winners
The winners of the Dean's Award in 2014:
Nicholas Kay
First year category (joint winner)
I finished my undergraduate Masters here at Lancaster in 2012 and having enjoyed everything the course had to offer I decided to pursue further education and enrol for a PhD. For this I decided to apply for the North West nano doctoral training centre (NoWNano DTC) now known as Graphene CDT. Here as part of the course I spent 6 months learning the main aspects of nanoscience at Manchester University before coming to Lancaster to pursue my research project.
My research involves studying a new class of materials called two-dimensional (2D) crystals which are in most cases a single atom thick. The most notable of these is graphene discovered in 2004 at Manchester. These new materials possess a plethora of properties making them desirable for a wide range of devices from solar cells to ultra-sensitive mass and force detectors. My work however focuses specifically on the nano-electromechanical properties of such materials.
To study the electromechanical properties I am developing a series of techniques based upon the method of scanning probe microscopy (SPM). The latest of which is electrostatic-heterodyne force microscopy (E-HFM). E-HFM uses a method called heterodyne detection, a method which allows your mobile phone to detect very high frequencies. This detection principle allows E-HFM to observe time-dependant electro-mechanical phenomena at a resolution of pico seconds.
The next step in my project is to manufacture useful working devices out of these 2D crystals such as ultra-sensitive mass detectors and surface acoustic wave sensors. By studying these devices with E-HFM we hope to be able to observe their various operating characteristics in a new manner.
Ken Pfeuffer
First year category (joint winner)
Ken is studying eye gaze for interaction with computers. Hs research is situated within the field of Human-Computer Interaction (HCI), and concerned with development of methods and techniques that give rise to novel interactive capabilities.
Hugo Winter
Second year category
Hugo is working on a project co-funded by the Met-Office on Statistical Methodology for the Spatial Extent, Duration and Severity Aspects of Meteorological Extremes.
Audrius Zidonis
Third year category
Audrius is a first class BEng Honours Mechanical Engineering graduate of Lancaster University with a year in industry placement experience. He was selected for his PhD in engineering project supervised by Dr George Aggidis, Director of Lancaster University (LU) Renewable Energy Group (LUREG), and funded by Gilbert Gilkes & Gordon Ltd (Gilkes), the world's oldest (1852) and UK's largest hydro turbine manufacturer, following an impressive presentation to the Gilkes Board of Directors of his final year project (which also received the IMechE Best Project Award).
The aim of his PhD was to develop a technique to improve the efficiency of Pelton hydro turbines based on a thorough Computational Fluid Dynamics (CFD) analysis of the runner, with particular concentration on the bucket shape. CFD has been used for a number of years on reaction turbines but the modelling of impulse turbines that includes complex phenomena like free surface flow, multi fluid interaction and unsteady time dependent flow is still a challenge, so an ambitious list of project objectives were jointly defined by Gilkes and the University to address this problem. During his PhD Audrius has submitted 6 journal papers (peer reviewed), 3 of which are already accepted, which is a measure of the academic strength of the research.
Based on the promising results of computational part of Audrius' work, Gilkes has placed a significant amount of additional funding to enable experimental testing and validation of numerical results. Therefore it was proved experimentally that the performance of the Pelton turbine was improved as expected. This clearly shows that in addition to the academic importance, his applied research has a direct industrial impact and can be beneficial for the sponsoring company.
2013 Dean's Award Winners
The winners of the Dean's Award in 2013: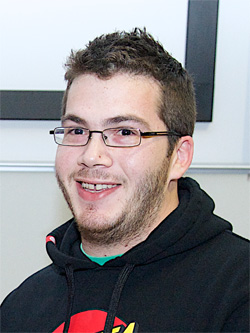 Ioannis Tsitsimpelis
First year category
Ioannis Tsitsimpelis' PhD project aims to deliver a commercially available, closed-environment Grow Cell, essentially a thermally and light insulated building, which will be capable of producing food crops in a cost effective and environmentally friendly way.
The studentship is funded by the Centre for Global Eco-Innovation (CGE) through the ERDF, in collaboration with an industrial partner, and supervised by Dr James Taylor and Dr Andrew McCabe in Lancaster's Engineering Department.
An ambitious list of project objectives includes research into the energy requirements, air movement studies, cooling and dehumidification, equipment specifications, different ways to deploy artificial lighting and mathematical tools for the analysis and automatic control of micro-climatic variables.
In nomination Ioannis, supervisor James Taylor writes that his student "has stepped up to this challenge with fantastic versatility, scientific imagination and, to be frank, incredibly hard work.
"He is both the engineering expert consultant for the project (as a Lancaster MSc Mechatronic Systems Engineering graduate) and is working directly with the Managing Director of NP Structures Ltd, essentially taking on the project manager role for the company. It is this highly successful contribution to the wider context of the project that has particularly impressed, and has elevated Ioannis Tsitsimpelis well above the norm for a recent graduate and first year engineering PhD student."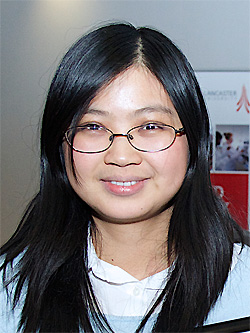 Yanxia Zhang
Second year category
Yanxia Zhang's PhD research in Lancaster's School of Computing and Communications is focused on the use of eye gaze for interaction with displays 'in the wild'.
Conventional eye trackers require infrared illumination of the eye, or other specialist instrumentation, and careful calibration of individual users. Yanxia, in contrast, has developed a novel method that is entirely based on image processing of eye images captured with standard RGB cameras, and does not require any calibration. Based on this she has developed a complete system that enables users to walk up to a display and start interacting with it solely by gaze. This is a first world-wide, and real breakthrough toward enabling touch-free interaction with public displays. Yanxia has evaluated this contribution in extensive user studies.
In her second year Yanxia has published her research in a full paper in the CHI conference - the definite venue for publication of HCI research - with highest review standards. She demonstrated her system during the conference, which had over 3400 attendees, leading to coverage in New Scientist and BBC News as well as interest from industry.
Yanxia has initiated a new collaboration with Professor Jörg Müller from Telekom Labs Berlin, a leading expert in field evaluation of public display interaction for follow-on research. Müller was enthusiastic in his feedback, noting that he was "impressed by her scientific, technical and organizational skill during her visit at our lab".
Marie Curie Training Network, who fund Yanxia's PhD, singled her out as a leading example among the 16 PhD students in their training network. She is also working with Lancaster University to patent some of her work.
Yanxia was invited by The Rank Prize Funds to a symposium on "Challenges at the Intersection of HCI and Computer Vision". Rank Prize symposia are by invitation only, and PhD supervisor Hans Gellersen writes: "It's really extraordinary for a 2nd year student to be recognised in this manner as an upcoming personality in the field.
"We are very proud in the School of Yanxia's achievements, and her contribution to her field and to Lancaster's reputation and visibility."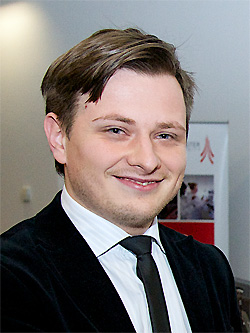 Tomasz Kania
Third year category
Tomasz Kania's PhD got off to a flying start. He has had five papers published or accepted for publication in leading mathematics journals - a truly outstanding record in pure mathematics - with several more either submitted or in preparation.
On top of his prolific publication record, Tomasz devotes a significant amount of time and energy to participating in conferences and building networks. In July 2013 he gave a well-received 30-minute presentation at the International Conference on Banach Algebras and Applications - the main event in his research area, with most of the world's leading experts present. He has also been selected to take part in the inaugural Heidelberg Laureate Forum in September 2013, which brings together the best early-career researchers in mathematics and computer science.
Tomasz has played a significant role in the life of Lancaster's Maths department, leading a reading group on K-theory for graduate students, as a highly active member of a study group on Noncommutative probability and analysis, and as an effective and energetic Graduate Teaching Assistant.
Upon completion of his PhD, he will take up a prestigious postdoctoral fellowship, jointly held at the Polish Academy of Sciences and the University of Warsaw.
PhD Supervisor Dr Niels Laustsen writes "Kania is a very talented and highly committed student who has performed exceptionally well throughout his three years of study in Lancaster. He has impressed my colleagues, including Professors Dales, Lindsay, and Power, with his abilities, knowledge, motivation, application, and tenacity in addressing research questions. We see a very promising academic career ahead of him."
2012 Dean's Award Winners
The winners of the Dean's Award in 2012:
Dima Iatsenko
First year category
I completed my BSc and MSc in Taras Shevchenko University of Kyiv (Ukraine) in a Quantum Field Theory group, although my MSc work was more related to biophysics. Afterwards I decided to slightly change my research area and started PhD here, in Lancaster University, in Nonlinear and Biomedical Physics group under the supervision of Professor Aneta Stefanovska and Professor Peter V.E. McClintock. And I really like what I am now doing! I like programming, I like calculus, and I like when results are immediately applicable, and my current research combines this all.
I am pursuing research in three directions. My main direction is the development and promotion of the Nonlinear Mode Decomposition method. NMD decomposes a given signal on the nonlinear oscillatory components and is superior to other existing methods. Given that the multicomponent signals are ubiquitous in almost all areas of research, from life sciences to econometrics, NMD will provide significant advantages to researches all over the globe. I created the NMD toolbox for MatLab, so anyone can freely use it. However, there are many things which can be derived, improved or implemented, and so I am now making it perfect. Additionally, I investigate the behaviour of networks of coupled phase oscillators, often described by the Kuramoto model. Although this research is mainly theoretical and mathematical, its importance lies in the fact that Kuramoto model have been shown to be applicable to a large variety of processes, from brain dynamics to neutrino oscillations. Finally, I also conduct analysis of large amount of data recorded in our laboratory. Doing this I investigate such important questions as the effects of age and hypertension on cardiorespiratory interactions and the microvasculature.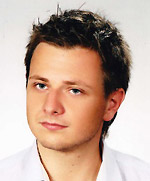 Tomasz Kania
Second year category (Joint winner)
In 2010, I finished my Master's studies in Katowice, Poland, on applications of Martin's Axiom and set theory in general to various branches of mathematics.
My research interests are quite diverse - they include Banach space theory, Banach algebras, von Neumann and general operator algebras, point-set topology, and more.
I spent 2012 working on various aspects of operator theory on Banach spaces and I published my results in Journal of Functional Analysis, Journal of Operator Theory and Journal of Mathematical Analysis and Applications. This was a natural continuation of my work on operators acting on the space of continuous functions on the first uncountable ordinal. (I have been granted the Dean's Award First Year Category for my contributions in this area.) A sample recent result of mine is the solution to an open problem dating back to 1970s asking whether of the algebra of operators on a reflexive Banach space is a Grothendieck space. (I proved that it need not be so.) Currently, I work on problems on the borderline of C*-algebras, Banach spaces and infinitary combinatorics.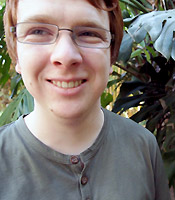 Jayson Turner
Second year category (Joint winner)
I am part of the Embedded Interactive Systems team within the School of Computing and Communications at Lancaster University. I work with, and under the supervision of, Prof. Hans Gellersen, Dr. Andreas Bulling (Max Planck Institute) and Dr. Jason Alexander. In 2009 I completed a B.Sc. in Computing at Manchester Metropolitan University, during which I worked for Echostar Technologies, developing software for digital satellite systems. In 2010, I joined Lancaster University as a PhD Student with the vision of doing research in to Eye-based Interaction.
I find it highly motivating to work with systems that introduce innovative and novel interaction styles that have the ability excite users. In the future, it is foreseeable that eye-tracking will be part and parcel of every interactive device. My research looks in to a space where users are surrounded by digital content, on public displays, TVs, and mobile devices. I am investigating how the eyes can be used to create seamless interaction between these devices, to allow users to transfer content between them in natural ways. Our eyes generally focus on content that we are interested in, by leveraging this behaviour, gaze can be used to point across distances at information we desire, and allow us to acquire it. Thanks to the experience and knowledge I have gained here at Lancaster University, I am now looking forward to a summer in Redmond at Microsoft Research.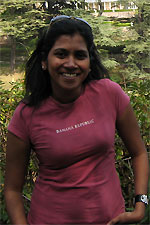 Pauline Anthonysamy
Third year category
I started my PhD in Computer Science at Lancaster University in December 2009 under the supervision of Professor Awais Rashid. I graduated with a BS in Computer Science from University Putra Malaysia in Malaysia, and completed MS in Computer Science from University of Ottawa, Canada in 2008. Upon completion of my Masters degree, I worked in industry for Nortel Networks as a Software Designer and later moved on to Ciena Corporation as an Engineer where I was involved in the development of their Network Management System.
My main expertise and research interests lie in developing computational approaches for privacy policy synchronisation and traceability with a system's runtime functionality. Specifically, I am interested in tracing privacy policies to privacy controls (runtime implementation) on social networking sites (SNS). In this field, I have developed a specialisation in identifying and demonstrating traceability relationships between natural language texts and the runtime implementation of a system (mainly SNS). This involves creating a bi-directional relationship between the natural language texts, i.e. privacy policies, and the runtime implementation of the system, i.e. privacy controls. This bi-directional link will aid in maintenance of compliance between policies and controls by reifing policy statements at runtime and linking them to privacy controls.
2011 Dean's Award Winners
The winners of the Dean's Award in 2011: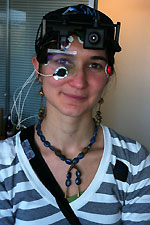 Mélodie Vidal
First year category (Joint Winner)
I did my MSc in France on the relationship between eye movements and mental diseases. This work made me realise how much information the eyes hold; it made me want to further investigate the detection of eye movements and what can be learnt from them. In fact, eye movements not only hold information about a person's mental health but can also be used to detect what a person is doing (context recognition) and eye-based applications can help disabled people to have a better grasp on their environment, for instance by using a computer or a wheelchair with their eyes. Joining the Embedded Interactive Systems group at Infolab21 was particularly thrilling, as it offers a great atmosphere and possibilities to develop mobile applications for pervasive eye-tracking.
During the first year of my PhD I have focused on developing methods and algorithms to improve the detection of a wide range of eye movements. This is crucial for the community since an accurate detection leads to reliable applications, whatever they may be. In the near future, I want to focus on developing context recognition applications using only eye movements: Can we evaluate how much a person reads during the day? Can we measure how social a person is based on their eye movements?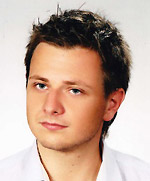 Tomasz Kania
First year category (Joint winner)
In 2010, I finished my Master's studies in Katowice, Poland, on applications of Martin's Axiom and set theory in general to various branches of mathematics.
My research interests are quite diverse - they include Banach space theory, Banach algebras, von Neumann and general operator algebras, point-set topology, and more.
Recently, I have submitted a joint paper to a peer-reviewed journal - Uniqueness of the maximal ideal of the Banach algebra of bounded operators on C([0, \omega_1]) - in which we study maximal ideals in the Banach algebra of operators on a certain, classical Banach space. I hope to continue my research on operators on spaces of the form C(K), where K is a compact Hausdorff space, with my mind open for exploring different areas of mathematics in the future.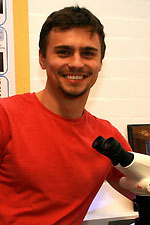 Ilja Grishin
Second year category
After finishing my undergraduate degree at the National Research University of Electronic Technology, Moscow, Russia, I worked for a year in industry with Mikromasch, who specilaise in the production of Scanning Probe Microscopy (SPM) cantilevers and calibration gratings, as well as piloting collaborative projects with universities and other SMEs. The experience was challenging but also interesting, educational and rewarding. I came back to academia to expand my opportunities and to attain further skills and knowledge.
My project: Ultrafast Switching of Phase Change Materials: Combined nanosecond and nanometre Exploration piloted by Lancaster University has a definite appeal to me, as it positions itself around SPM, one of the richest and most diverse microscopy families, which played a major role in my Undergraduate project as well as being work-related. The material of study being the basis of a promising new technology for Data Storage that currently is the closest to infiltrate the market and replace FLASH with the first ready device produced by Samsung and presented just this year. This makes my research really exciting, as any major finding might get a fast response, and use from within industry.
Whilst choosing Lancaster was a matter of going with my aspirations to produce something of great value, I have also come to understand the other valuable aspect of being part of our Physics department. It is a wonderful place to grow, with wonderful staff, friendly and flexible conditions, attitude and great facilities that all together produce a family-like environment that promotes and builds confidence and independence in a student. I suspect these qualities will help me undergo my own transition from a student to a researcher, and I look forward to my last year as a postgraduate student in Lancaster University.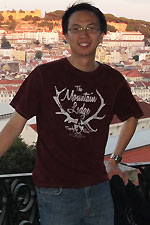 Ming Ki Chong
Third year category (Joint winner)
Having completed my master's degree in computer science at the University of Cape Town, South Africa, I discovered my passion for research, specifically in human-computer interaction (HCI), usable security and ubiquitous computing (ubicomp). After graduation, I decided to do a PhD degree and joined Lancaster University in 2009. The School of Computing and Communications provides a wonderful environment for conducting research. Here, I have the freedom to pursue the research that I want to do.
In my PhD work, I am interested in understanding how users intuitively pair/associate wireless devices. In a wireless world, users can establish connections between devices spontaneously, and unhampered by cables. However, in the absence of cables, what is the natural interaction to connect one device with another? Using the knowledge learnt from my research, I can design customised techniques for users to establish quick and secure device association. After my PhD study, I want to apply the skills I have gained into this area of research and industrial design.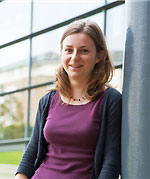 Jennifer Wadsworth
Third year category (Joint winner)
I work in an area of statistics known as extreme value theory, which deals with the probabilities of rare events: floods, heat waves, and financial market crashes are just a few such examples. The fundamental challenge is how to use existing data on these rare events, which is scarce by definition, in order to best inform us about the probabilities of future extremes. In doing so, we can help policy makers to strike a balance between risk and cost, for example in deciding how high to build flood defences.
The frequency-based approach to probability, where chance is estimated by the proportion of times a particular event has previously occurred, produces very poor results here: interest may lie in an event which has never occurred, but which still might (records are consistently being broken). Consequently, development in this area relies upon exploiting mathematical theory which describes how processes behave when they produce extreme values. However, much of the mathematical theory relies upon having an infinite amount of data available. One of the most interesting aspects of the subject therefore is to create methodology which is suitable for the finite amount of data that we have, whilst still being sufficiently mathematically rigorous to provide reliable estimates of probabilities. I have greatly enjoyed working on this throughout my PhD, and hope to continue pursuing these challenges in a research career.
2010 Dean's Award Winners
The winners of the inaugural Dean's Award: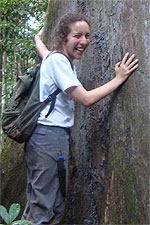 Erika Berenguer
First Year category (joint winner)
I'm a Brazilian ecologist who has always been interest in tropical conservation and policy-making. The present and future state of the Amazon rainforest especially interests me. I've come to Lancaster because here I could find at LEC some leading tropical ecologists, like Dr. Jos Barlow, who has been working in the Brazilian Amazon for more than 10 years.
According to the IPCC, global deforestation and land-use change have a great impact on climate change, and together they account for 20% of global emissions of greenhouse gases. Preventing further deforestation has been considered a highly cost-effective way to reduce emissions. My research aims to enhance our understanding of carbon stocks in disturbed Amazonian landscapes. Therefore, I'm assessing past and present-day disturbances together with current carbon stocks in a mosaic of land-uses.
In the near future I intend to set up an exhibition on the Brazilian Amazon on campus, so people can get a closer look of what life is like at the deforestation frontier. Later on, I would like to organize a conference on tropical ecology, gathering in Lancaster specialists to discuss high impact research and how Science can better communicate its findings to policy-makers.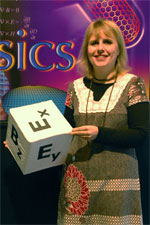 Cherry Canovan
First Year category (joint winner)
I went to university at the normal age and after graduating became a journalist. After a few years I became science correspondent of the Times Educational Supplement. I wrote so many stories about shortages of physicists that I decided to take personal action!
I was about to start a family and it seemed a good time for a career change, so I enrolled for a physics degree at my local university, Lancaster. I only found out afterwards that it was one of the best departments in the country! I absolutely loved the degree and found the department hugely accommodating of my efforts to combine studying with bringing up my two small children.
After graduating in 2008 I joined the Mathematical Physics group to do a part-time PhD. We specialize in a form of maths called differential geometry, which I am using to explore problems in classical electrodynamics. I have recently published a paper in the American Journal of Physics on the historic Wilson-Wilson experiment, which is regarded as providing experimental confirmation of Einsteinian special relativity. I also won first prize at the 2nd LU Creativity and Change conference for a presentation on Wilson-Wilson. I am now working on a covariant model of dispersion along with other members of my group.
As I am part-time, I expect to be working on my PhD for a few more years, but in the long term I hope to pursue a career in physics research.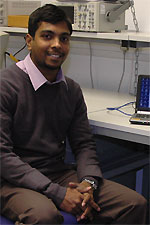 Kelum Gamage
Second Year category
After completing an undergraduate Engineering degree in 2007 at the University of Moratuwa, Sri Lanka, I worked as a lecturer at the same department for a year. Having decided to continue studying to doctoral level in a world class university, I selected Lancaster University.
Engineering at Lancaster has an international reputation for cutting-edge research and high expectations, world class expertise in the field, multinational student body and besides the beauty of the countryside contributed in my decision to pursue a PhD at Control and Instrumentation Research group.
Currently, I am a third year PhD student and working on the 'Locating the fissile material with digital fast neutron tracking' project. The project is supervised by Professor Malcolm Joyce and funded by the Nuclear Decommissioning Authority. In this project we have developed a method for digital imaging of neutrons and gamma rays in a mixed radiation field, which is the first report of a system to image neutron-emitting contamination using a fast scintillator detector (Patent No.1016806.0 (2010)).
During the summer of 2009, I worked at the National Physical Laboratory, London for a summer placement with Dr. Nigel Hawkes. During this placement, I conducted research, namely the realisation of a compact digital neutron / gamma spectrometer.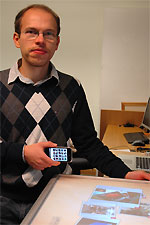 Dominik Schmidt
Third Year category
I am currently in the third year of my PhD in computer science. After having finished my studies in Germany and the US, I joined the Computing Department at Lancaster University. Here, I found an excellent environment to conduct the research I am interested in, combined with a very friendly and productive atmosphere.
In my work, I am interested in supporting users to improve their experience with shared interactive surfaces. Particularly, I am looking into personalizing surface interactions. For example, bringing mobile phones into play allows users to easily transfer their personal data between devices by simply touching a surface with the phone.
---