---
Doctoral Training Centres in Science and Technology
Lancaster University is home to two prestigious EPSRC-funded Doctoral Training Centres (HighWire and STOR-i), and is an active partner in NOWNANO and the EngD Nuclear Consortium.
Our DTC's are:
What are EPSRC Doctoral Training Centres?
EPSRC (Engineering and Physical Sciences Research Council) Doctoral Training Centres represent a new approach to postgraduate study, with the aim of attracting and nurturing talented and skilled researchers.
DTC-based students carry out a PhD-level research project together with taught coursework in a supportive and exciting environment.
There are real benefits to undertaking a PhD through a Doctoral Training Centre:
An innovative, exciting and vibrant 4-year training programme developed to produce high quality researchers
A well-funded scheme with substantial Government and industry backing providing a large number of studentships with greatly enhanced stipend
The integral involvement of leading industry partners in both training and research
A great student experience from training as part of a group, co-operating and interacting with likeminded peers
Researching important cross-disciplinary problems to ensure that your research makes an impact
The development of skills and experiences that are required for a rapid career progression
Supported by: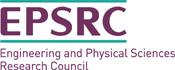 ---