---
Fast track PhD for BT Call Centre Expert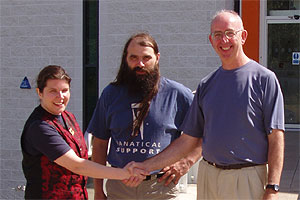 Nicola Millard, a BT Customer Experience Consultant, has taken just two years to complete a part-time PhD through a Computing Department scheme run specifically for industrial researchers. The scheme takes into account industrial research previously completed by students as part of their employment.
This fast track PhD scheme allowed Nicola to build upon her previous work, build prototypes for field testing and complete the thesis within the minimum time allowed of two years part-time.
Call centre staff have a tough job and high burn out rates are a well documented feature of the industry. Improving the employee experience as well as the customers is now on the agenda of the forward thinking centres and BT is making sure it is at the forefront through sponsorship and support of Nicola's studies. The subject of the PhD thesis is "Designing motivational user interfaces for call centre advisors". It looks at how staff effectiveness may be balanced with a healthy and stress free environment.
A prototype of the new interface software was piloted in three call centres - two telecoms and one bank. Its aim was to manage stress levels, allow staff to control their emotions and help them to deal more effectively with irate customers.
The prototype interfaces were successfully tested with call centre advisors and some elements of the designs have been taken forward into operational systems. The most notable success was the "emotional widget", a mechanism to off load stress levels. It proved to be an excellent mechanism to help call centre advisors let off steam and make the workplace a more fun and satisfying environment to be in.
Wed 31 August 2005
Associated Links
---