---
Superb New Facilities for Sci-Tech Masters Courses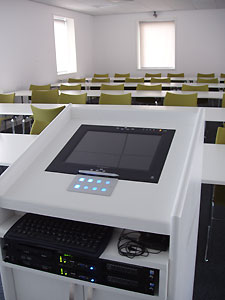 The new Masters Training Suite has been officially opened by Professor Mary Smyth, Lancaster University's Dean of Science and Technology. The Suite is dedicated to the teaching of masters level courses in 'block mode' - a non-traditional approach whereby courses are taught in intensive one-week units.
The new facilities are designed to aid the development of innovative postgraduate degrees across the University's Science and Technology departments - particularly industrially attractive part-time schemes which do not require long periods of residence in Lancaster.
The Masters Training Suite's five teaching rooms are complemented by break-out areas and feature audio-visual equipment to support the most up-to-date teaching methods. The flexible teaching spaces can accommodate classes of up to 60 students.
These new facilities are part of a wider programme of work taking place in the Faculty of Science and Technology. Break-out space in the Masters Training Suite is augmented by newly refurbished foyer and garden areas, providing students and staff with comfortable surroundings to work or chat.
The mix of new formal and informal areas provides plenty of room for all masters Training Suite users to learn in the best environment possible.
Fri 13 October 2006
---