---
Sustainable Agriculture Centre Appoints Director
Story supplied by LU Press Office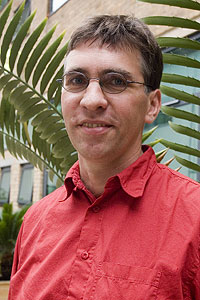 Lancaster Environment Centre has appointed a director to its new Centre for Sustainable Agriculture. Professor Felix Wäckers took up his post at the interdisciplinary centre this October.
The Centre aims to couple cutting-edge research with a practical focus in order to address some of the environmental challenges facing agriculture in the 21st century. It has been set up through a unique collaboration between Lancaster University, the Centre for Ecology and Hydrology and Waitrose supermarkets.
Professor Wäckers, who was born in the Netherlands, specialises in plant-insect interactions and has applied this knowledge to researching biological pest control as an alternative to the use of chemical pesticides. He has also looked into the impact of landscape structure on the agricultural ecosystem.
He has worked at the United States Department of Agriculture and as an assistant Professor at the ETH, Zurich, Switzerland. Most recently he was senior researcher at the Netherlands Institute of Ecology.
Professor Wäckers said: "Agriculture plays a key role in addressing a range of environmental issues. Innovative approaches are being developed to help reduce the emission of nutrients, pesticides or greenhouse gases associated with agricultural production."
Thu 27 October 2005
---