---
National Teaching Fellowship Scheme Winner
Story supplied by LU Press Office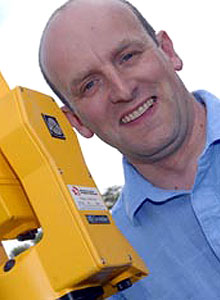 Dr Andrew Folkard, a Lecturer in Physical Geography committed to teaching mathematical, statistical and quantitative skills to non-specialists, has been awarded a prestigious National Teaching Fellowship from the Higher Education Academy.
Andrew aims to effect a "revolution" in attitudes across all areas where students are required to engage with quantitative material, even though, he says, "many of them view it with fear, antipathy or boredom." In 2002, through a University grant, he worked with focus groups of students who had found his second year statistics course difficult. Through lengthy discussions with students he has now adopted an approach which focuses on what quantitative skills can do to help them.
On his first-year quantitative skills course, Andrew breaks down the barriers many students have to mathematical material by using a staple of student humour - celebrities in surreal situations - as a way of introducing complex ideas. For example, he teaches one statistical method with a story about stars of the World Wrestling Federation arguing about the length of scarves they had knitted for their local church fete.
Andrew is keen to support student diversity. He provides "virtual fieldtrips" using video recordings and photography for students with impaired mobility who are unable to tackle the difficult terrain found on fieldtrips. In his third-year module, he uses one weekly session to cover scientific material and the other to point students to potential career opportunities. This linking of difficult scientific course material to the reality of career relevance engages the students' curiosity very effectively.
Nationally, Andrew is actively involved with the Higher Education Academy's Subject Centre for Geography, Earth and Environmental Sciences (GEES) for which he has produced a much valued resource briefing on Mathematics, Statistics and Quantitative Skills. In 2003, he was awarded Lancaster University's Pilkington Prize for excellence in teaching in recognition of his contribution.
Mon 30 June 2008
---