---
Weather Station Marks 30th Anniversary
Story supplied by LU Press Office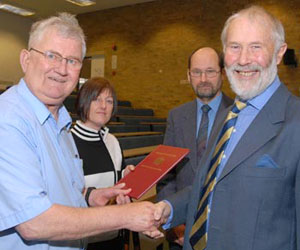 An official Met Office weather station owned by Lancaster University has celebrated its 30th birthday with an award from the Chancellor Sir Christian Bonington.
The station at Hazelrigg, north of campus, has been taking measurements every day since 1976.
The 30th anniversary means that now weather records from Hazelrigg qualify for inclusion in world climate reports and an analysis of long term trends by the World Meteorological Organisation.
Sir Christian presented an award to Martin Beadle who recorded the data at 0900GMT every day until his retirement in 2001.
He said: "I remember the times when the wind was blowing so hard I had to hold my spectacles on and times when the snow would build up on them so I could hardly see. You have to be reliable, accurate and not too shy of bad weather to do the job well."
He said he was always fascinated by the weather.
"I read every book in the school library on weather from cover to cover. What I read in the book made sense when I looked at the sky, though I observe the weather - I can't predict it!"
Also receiving awards were the current weather observer at Hazelrigg Debbie Hurst and John Adamson, who runs the 75 year old Moor House weather station in the North Pennines. Both weather stations were established by Gordon Manley, Lancaster's first Professor of Environmental Studies.
Fri 12 January 2007
---