---
Arctic Expedition to Investigate Chemical Pollution
Story supplied by LU Press Office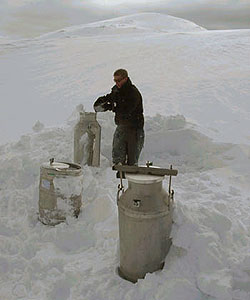 Lancaster University scientists are heading for the Arctic as part of an international investigation into how chemical pollutants are affecting a unique part of the planet.
Chemicals which are used every day in agriculture, industry and in the home - for example pesticides and flame retardants - are found in increasing quantities in the Polar Regions.
These pollutants then break down and work their way into the food chain causing damage to plant and animal life ranging from single-cell organisms to crustaceans, sea cod, seals and whales.
The extreme cold temperatures found in the Polar Regions mean that chemicals do not break down as quickly as they would in a temperate climate. Instead they accumulate in the snowpack, to be released suddenly during the short summer melt season, placing additional stress on the environment.
Dr Cris Halsall of Lancaster Environment Centre is set to take part in a three year study into these chemicals - many of which are known as Persistent Organic Pollutants (or POPs).
He will be working alongside Canadian Scientists and the research is funded by a £324,556 grant from the Natural Environment Research Council as part of the International Polar Year 2007-8.
Dr Halsall, working in collaboration with Professor Kevin Jones of Lancaster University's Centre for Chemicals Management, will examine the delivery of a range of industrial pollutants and pesticides from the atmosphere to the arctic marine system.
He will focus on the geochemical cycling of these pollutants in the sea-ice snow pack and examine the role of 'ice-leads' large lakes of open seawater, in delivering these pollutants to biologically-rich surface waters.
sdasdasdasd
Dr Halsall said: "The Arctic is a unique pristine environment - the Arctic sea ice is home to species which are not found anywhere else in the world. We know that mankind is having a damaging impact on that environment and these pollutants provide an additional stress on this environment.
"Indigenous populations rely on local species for their food, their livelihood and their culture. They are not the people taking advantages of these chemicals yet they are suffering the impact of them."
Sun 18 March 2007
---