---
Lancaster University signs MoU with University of Benin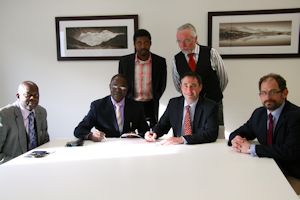 On the 29th and 30th of March, LEC hosted a visiting party from Nigeria, which included Prof. Lawrence Ezemonye, Director of the National Centre for Energy and Environment (NCEE) of the Energy Commission of Nigeria Under the Presidency, and Prof. Anthony B. Ebeigbe, Director of Exchange and Linkages, University of Benin, Nigeria, who also represented the Vice Chancellor of the University of Benin, Prof. O.G. Oshodin (a key driver of this initiative).
The purpose of this visit was to explore potential opportunities for collaboration between LEC and other departments within the Faculty of Science and Technology and theses two reputable institutions in Nigeria. Dr Akan Odon, a former PhD student of LEC and winner of the British Council International Student of the Year award (2006), who now runs a small consultancy, Envirofly Consulting, in Nigeria and the UK, was instrumental in bringing everyone together for this meeting.
Discussions were fruitful and it was agreed that both institutions would consider
1. collaborative PhD programmes within environment, waste management, remediation, water quality/ waste water/ sanitation and engineering themes;
2. the development and delivery of short executive courses for government officials, engineers and consultants in the areas of waste management, renewable energy, analytical QA/QC and forensics;
3. joint research projects in the areas of renewable energy, environment and health and pollution control and remediation
4. Increasing the Universities profile in Nigeria through the organisation of an expo in Nigeria to facilitate bringing academics and businesses together.
5. the organisation of a summer school of PG students in 2013 focussing on pollution, environment and health in Nigeria.
Following these discussions a Memorandum of Understanding was signed between the University of Benin and Lancaster University and it is anticipated that a small delegation from LEC will have a reciprocal meeting at the University of Benin in June.
Tue 24 April 2012
Associated Links
Lancaster Environment Centre - Innovation, training and research for a sustainable future
SETPOINT Lancashire - part of the Science, Engineering and Technology Network (SETNET) that aims for every young person to have the opportunity to participate in an appropriate Science, Technology, Engineering or Maths (STEM) activity linking schools to business and the 'world of work'
---