---
Have Humans Brought About a New Geological Epoch?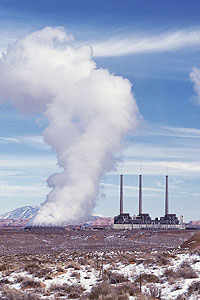 Recent human activity has altered the geological record so fundamentally that a new name, 'The Anthropocene', should be adopted for the time interval starting about 200 years ago.
This is the proposal of Geography's Dr Mark W. Hounslow and others from the Geological Society of London Stratigraphy Commission, set out in an article in the Geological Society of America GSA Today magazine.
The group believes that human activity impacting on patterns of sediment erosion and deposition, changes in the carbon cycle, global temperature rise, and associated extinction of animals and plants, has caused an event which will be observable in the geological record many millions of years into the future.
They argue that this event is sufficiently comparable to other major extinctions and intervals of global environmental change in Earth history that it deserves the name of a new geological epoch.
The commission proposes that the new epoch should be formally recognized by the international body governing the sub-division of geological time. The article has been widely commented on in the popular media.
Wed 20 February 2008
---