---
Postgraduate Statistics Centre wins Architectural Award
Story supplied by LU Press Office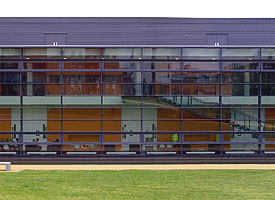 Lancaster University's new Postgraduate Statistics Centre has won an Architectural Award from the Royal Institute of British Architects (RIBA) - one of only 11 projects in the North West region to do so. RIBA Award-winning buildings go on to be considered for RIBA National Awards, which will be awarded at a ceremony on 27 June 2008.
The £2.4m state-of-the-art building was officially opened in February this year by the former president of the Royal Statistical Society, Professor Sir David Cox, as part of HEFCE's largest ever, single funding initiative in teaching and learning.
The building has been designed to maximise light and space and provide spaces where staff and students can meet, with open plan learning zones on the first floor.
Fri 30 May 2008
---