---
Alumnus Named as Top Researcher by Nature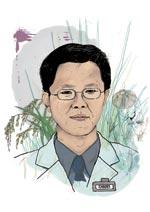 An alumnus of Professor Bill Davies has been named by Nature as one of the "Five crop researchers who could change the world".
Zhang Jianhua, a former PhD student and now a Plant physiologist at Hong Kong Baptist University, worked in Bill Davies' lab in 1985 after the Chinese government gave him the opportunity to work abroad.
Here at Lancaster he was the first Chinese person to join the lab and soon began producing publications. "He did the definitive work showing that roots can signal to shoots using a particular plant hormone - abscisic acid - in response to drought stress," explains Bill Davies.
Zhang moved to Hong Kong after several years at Lancaster and now travels throughout China talking about research on deficit irrigation as a way to improve agricultural efficiency.
Wed 10 December 2008
---