---
Annual SETAC-UK Young Researchers Meeting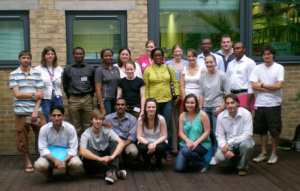 The Lancaster Environment Centre hosted the Society of Environmental Toxicology and Chemistry (UK branch) annual SETAC-UK Young Researchers Meeting on 2nd and 3rd July 2009. In total, 27 PhD students and early career PDRAs from around the UK attended.
Keynote presentations were provided by Dr. Kirk Semple from LEC and Professor Ed Tipping from Centre for Ecology & Hydrology, Lancaster. There were eight platform presentations and ten poster presentations from the conference attendees.
Prizes for the best platform and poster presentations were presented by Dr Apostolos Papadopoulos from the LEC-situated company Plant Impact. Best platform presentation was awarded to Tom Sizmur from Reading University for his talk entitled 'Impact of earthworms on metal mobility and availability'.
The best poster was awarded to Emma Butler of Cranfield University, for her poster on the 'Inhibitory effects of triclosan on microbial respiration: Resistance and Resilience'. The event was sponsored by SETAC UK, the Society for Experimental Biology, Brixham Laboratories and the Environment Agency.
The meeting was organised Miss Laura McAllister, who is the current student representative on the SETAC UK committee.
Wed 08 July 2009
---