---
New Postgraduate Certificate in REACH Compliance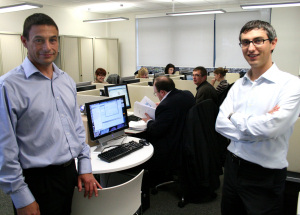 The Centre for Chemicals Management has launched a new Postgraduate certificate developed to assist the UK Chemical Industry with their compliance with REACH; the new EU legislation on Chemicals Regulation Management. The course comprises three taught modules covering all aspects of the regulation.
Over the past year CCM has been running a series of successful one day events that have helped to showpiece the outstanding training facilities available in LEC as well as assisting more than 150 delegates from 80 chemical manufacturers, importers and users.
Delegates from 8 companies attended Module 1 between Tuesday 7th and Thursday 9th July which was delivered by some of the UK's leading experts in their field. The aim of the course is to address the major issues surrounding REACH and its implementation. To be compliant with REACH requires significant investment of time and resource for many companies, and thus the postgraduate certificate offers a examines the wider reaching business implications of REACH in the current markets.
The first day, presenting a broad overview of REACH and the processes of registration was delivered jointly by Simon Brearley and Andrew Fasey; both directors of The REACH Centre based in LEC and renowned experts in the UK and internationally.
Day 2 presented by Dr Andrew Sweetman of CCM allowed delegates to gain 'hands on' experience of the IUCLID5 database which will be used to collect and store data for registration. This session was complimented by a very insightful guest talk addressing enforcement of the legislation by Mike Potts from the HSE; the UK Competent Authority on REACH.
The final day of the first module took a detailed look at Substance Information Exchange Forums (SIEFs) and consortia which have been established with the aim of enabling companies to share data and costs to enable a more efficient process for registration. Presented by Patricia Jones; an Intellectual Property Partner from Hammonds, this session was highly interactive with all delegates involved in discussions and debate.
Over the course of 3 days the delegates received a comprehensive overview of the REACH regulation in conjunction with a detailed exploration of the processes involved in REACH registration, acting effectively in SIEFs and consortia, and the use of IUCLID5 database software that will be used to store much of the data that will be collected and used in the submission dossier.
Modules 2 and 3 will take place in LEC between 8th to 10th September and 10th to 12th November respectively.
Thu 13 August 2009
---