---
LEC links with Brazil to develop research into tropical rainforest conservation.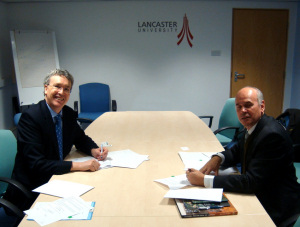 Many tropical forest conservation initiatives are currently limited by a poor understanding of the biodiversity consequences of anthropogenic impacts on natural systems. But a team of researches within the Lancaster Environment Centre (LEC) are aiming to help develop scientific research programs that are able to inform the development of effective strategies for the conservation of tropical forest biodiversity.
Jos Barlow, a research fellow within LEC, examines the effects that humans have on tropical forest biodiversity. Jos has recently been working to develop links with Brazil through the development of a dual-doctorate program with the Federal University of Lavras (UFLA).
UFLA is based in Minas Gerais in the south east of Brazil, and has over 2000 students enrolled on post-graduate courses.
In December 2009 a delegation from UFLA visited Lancaster University and signed a Memorandum of Understanding outlining the development of this program. Recruitment for the dual-PhD program will begin in early 2010, with UFLA offering studentships that will link with research expertise at UFLA with LEC.
All students will be jointly supervised by staff from Lancaster University and UFLA, and will undertake a significant portion of their study at each university.
For more information, contact Jos Barlow on 01524 510548 or jos.barlow@lancaster.ac.uk.
Tue 16 March 2010
---