---
Bicycle politics workshop success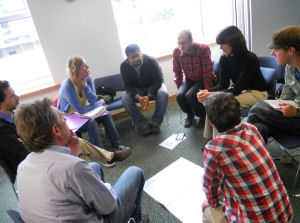 Dave Horton (LEC) from the EPSRC Understand Walking and Cycling Project was one of the organisers of a recent workshop on bicycle politics working jointly with the Centre for Mobilities Research at Lancaster University.
Participants ranging from activists, students and academics, transport planners, cycle trainers and bike co-op membersattended from a range of locations including South Africa, India, Australia, the US, Spain, Denmark, Ireland and Italy - as well as from across the UK were in attendance.
Dave Horton explains "The workshop was about far more than just 12 presentations. It was about living out our principles in our everyday lives, about embodying those changes which we want to see come more widely about".
Fri 15 October 2010
---