---
Banned pollutants discovered off the African coast
Story supplied by LU Press Office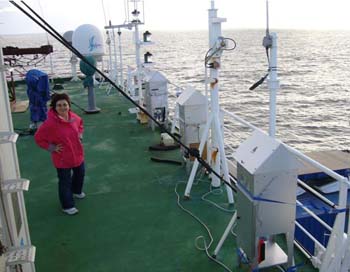 A researcher from The Lancaster Environment Centre (LEC) says there are relatively high levels of harmful organic pollutants off the African coast possibly due to toxic waste.
Dr Rosalinda Gioia's research, reported in Nature, revealed the presence of high levels of PCBs (polychlorinated biphenyls) which have been banned in Europe and North America because of their adverse effects on human health and ecosystems.
Dr Gioia, an atmospheric pollution researcher, is the lead author of the report published in Environmental Science and Technology.
She said: "In the global inventories of PCBs, Africa does not really represent a place where PCBs were sold or used. Of course, the long-term exposure to these levels of PCBs could lead to adverse effects to human health; however, a detailed toxicological study is needed in order to determine the effects."
She said that one likely source of the pollution is the dumping of old electrical waste such as capacitors and other PCB-containing products. Developing countries take large amounts of waste from Western nations and break them down or dispose of them, often with little regard for safety or pollution.
Another probable source of the PCBs is one of the world's largest ships' graveyards off the coast of Mauritania, where hundreds of wrecks have been left to decay, probably releasing PCBS in the process.
The production and use of these chemicals is now largely banned by national laws and under the 2001 Stockholm Convention on Persistent Organic Pollutants.
Thu 10 February 2011
---