---
Journalist Leads Workshop on Stats in the Media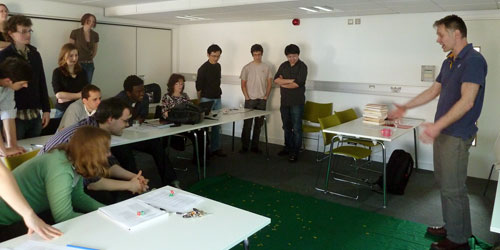 Michael Blastland, notable for devising and running More or Less on Radio 4 with Andrew Dilnot, and co-author of The Tiger That Isn't, visited the STOR-i Doctoral Training Centre last week to lead a communication skills workshop for PhD students.
Michael provided an informative, humorous, and sometimes shocking insight into the use and abuse of numbers in the media plus some useful tricks of the trade for communicating quantitative evidence to people from non-quantitative backgrounds.
The day was a resounding success and we look forward to welcoming Michael to future training events at STOR-i. If you are interested in attending future workshops run by Michael Blastland please register your interest by emailing stor-i@lancs.ac.uk.
Tue 29 March 2011
Associated Links
STOR-i - Lancaster University's Statistics and Operational Research Doctoral Training Centre (STOR DTC) aims to develop a new generation of researcher capable of creating an impact in these complementary areas. The STOR DTC is funded by a £4.3M award from the EPSRC and benefits from considerable support from leading industry and other organisations
---