---
International Workshop on Chemical Risk Assessment and Environmental Management Successfully Convene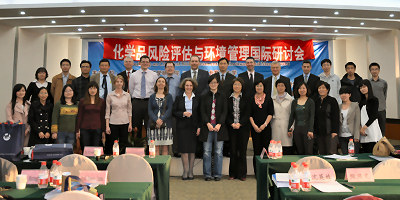 LEC joined forces with the Chinese organizations responsible for developing new chemicals regulations and environmental management standards to convene The First International Workshop on Chemical Risk Assessment and Environmental Management in Beijing in April 2011.
The workshop was sponsored by the State Environmental Protection Key Laboratory for Ecological Effect and Risk Assessment of Chemicals of Chinese Research Academy of Environmental Sciences (LEERAC-CRAES) and Lancaster University's Lancaster Environment Centre of U.K., and undertaken by the Special Committee of Environmental and Ecological Toxicology of Chinese Society of Toxicology (CST),CST's Special Committee of Regulatory Toxicology and Chemical Registration Center of the Ministry of Environmental Protection (MEP). Zang Wenchao, Director of Chemical Administration of MEP's Pollution Control Department, Shu Jianmin, Vice President of CRAES, Fu Lijie, Vice Director of CST and Gao Yingxin, Director of MEP's Chemical Registration Center attended to celebrate the workshop and made welcome speeches.
The workshop was co-presided by Director Liu Zhengtao from LEERAC-CRAES and Research Director Professor Kevin Jones from LEC. Experts from LEC, the Centre for Ecology and Hydrology (CEH), the UK Health Protection Agency, Stockholm University, and LEC's China Bridge industrial partners attended, presenting reviews and updates on European chemical risk assessment and chemical management. Chinese officials and experts including, Director Zang Wenchao from Chemical Administration of MEP's Pollution Control Department, Vice Director Shen Yingwa from MEP's Chemical Registration Center, Associate Research Fellows Wang Hong and Yan Zhenguang from LEERAC-CRAES introduced the current situation on China's research on environmental management of new chemicals, risk assessment of chemicals and water quality criteria etc.
More than 200 experts and representatives from environmental protection, public health, agriculture, the Chinese Academy of Sciences, education and scientific research institutions around the country and foreign and domestic chemical-related enterprises attended the meeting.
Lancaster will be working closely with its partners to follow up with training, capacity building and advisory support on chemicals management with its Chinese partners. Our Chinese readers can find further details of the meeting on the CRAES web site.
Tue 03 May 2011
---