---
Lancaster to lead £4m consortium for the creative economy
Story supplied by LU Press Office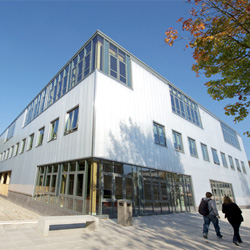 Lancaster University in partnership with Newcastle University and the Royal College of Art has been awarded £4m to lead a regional consortium aimed at boosting the UK economy through the growth of the digital and creative industries.
Lancaster is one of four universities in the UK chosen by the Arts and Humanities Research Council (AHRC) to lead a Knowledge Exchange Hub for the Creative Economy for the next four years. Each will lead consortia that will include other universities, creative businesses, arts and culture organisations and other agencies.
This Lancaster led hub called 'The Creative Exchange' will include collaboration with the BBC, Microsoft, MediaCityUK, FutureEverything, Tate Liverpool, Opera North, Storey Creative Industries Centre, The Sharp Project, Lancaster City Council, NESTA, National Media Museum, Manchester Digital, Arts Council England and over 30 small and medium sized companies working in the sector, such as Stardotstar and Mudlark.
Leader of The Creative Exchange and the Chair of the Hub Council is Professor Rachel Cooper, Chair of the Lancaster Institute for the Contemporary Arts.
She said: "This hub is a unique opportunity to bring three of the UKs top design research labs and academics from across the arts and humanities together with organisations and business to address the changing digital landscape. This will result in the development of new products and services centred around citizen led content, driving regional and national economies."
The UK's Creative Economy - which includes everything from design and gaming to digital media, broadcasting, theatres and libraries - is, relative to GDP, probably the largest creative sector in the world.
The Hub will respond to the ability of everyone to access the digital space and create their own content online by linking up businesses , organisations and researchers with members of the public in order to test out new ideas and develop new services and products.
The Minister for Universities and Science David Willetts said: "Interaction between businesses and universities is crucial for driving growth. It enables businesses and organisations to benefit from our world-class research base, gaining new knowledge and ideas. This major investment will not only enrich the creative industries but is also a vote of confidence in the excellent arts and humanities research at our higher education institutions."
The other lead institutions are: University of Dundee, Queen Mary, University of London and the University of the West of England.
CEO of the AHRC Professor Rick Rylance, said: "The UK is outstanding at many things and leads the world in some. Of these the quality and innovation of our research and the dynamism of our creative economy are two that stand out. These AHRC Creative Economy Hubs offer the opportunity to unite these sectors to the benefit of both sides and the country as a whole. The successful consortia emerged from an exceptionally strong field. We congratulate them; look forward to working closely with them over the next four years; and to welcoming the results of their work."
Tue 16 August 2011
---