---
LEC hosts first international Smart Technology Showcase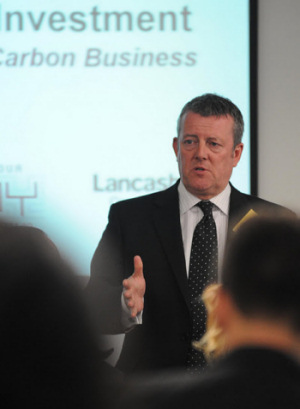 LEC hosts international event on Smart Energy to make North West European businesses more competitive.
This November over nearly 100 people attended the first Smart Energy Technology Showcase held in the Lancaster Environment Centre, as part of a new transnational project, the Knowledge , Acceleration, Responsible Innovation Network, KARIM, which aims to improve SME access to high value innovation support and technology and make North West Europe more competitive.
The aim of the showcase, part-sponsored by UK Green Building Council and CIWEM, was to stimulate interest from international organisations businesses and research providers to initiate transnational collaborative projects, student consultancy and B2B alliances. Delegates learnt about the state-of-the-art research in smart energy knowledge and emerging low carbon technologies being developed by University College Dublin, Lancaster University and organisations from across North West Europe. Delegates were shown how they could get more involved and benefit from smart energy and were also able to get instant expert feedback on their potential research project ideas.
One delegate explained why he attended the event-"to gain an insight into the Energy activities of academia and the SME community." He found it "Very useful. I picked up some great opportunities though SME community and also learnt what UCD and Lancaster can do for us."
Keynote speakers outlined their views on North West Europe Energy policy and included LEC resident company Stopford Energy & Environment Limited, who presented on conducting research with academia, Serge Gadbois, CFI, who gave an introduction to KARIM, Dr David Timoney, University College Dublin, who explained the benefits of Student Placement Programmes, David McAuley, Sustainable Energy Authority of Ireland gave an update on Energy Policy, complimented by Sarah Collins, Business Support Kent on Energy Foresighting and Professor Colin Boxall, Lancaster University who gave an overview of Energy Lancaster.
KARIM brings together eight European partners to improve private sector access to high value innovation and technology support. LEC is leading the partnership for Lancaster University and hosted the event.
The new INTERREG-funded initiative, KARIM, is seeking to link researchers and small-medium businesses in the area of low-carbon technologies. "It is a new project that intends to bring researchers and SMEs closer and in turn make these businesses more competitive by accessing cutting edge innovations" explains Dr. Patrick Fournet, one of the project's business development managers working in University College Dublin.
The three-year project, which started in April, aims to create 300 new transnational collaborative projects between SMEs, universities and innovation support agencies across the North West Europe region. The hope is to help businesses collaborating on KARIM projects spot market and technology opportunities and in turn increase their turnover by an average of five per cent and raise more than €3 million in finance, says Dr. Fournet: "It is quite a big ask in this economic downturn, but the aim is to make them more competitive and create new jobs and products."
The event was streamed live on line and watched by delegates in Paris and Dublin. SMEs across North West Europe can access the event's content which is available via the KARIM website.
The Smart Energy Technology Showcase is one of a series of networking events coordinated by KARIM to enable universities to present emerging technologies for new products and services to SMEs, and also for SME organisations to outline their market needs for new technologies. One of the next events will take place in Dublin in the area of environmental technologies in May 2012, alongside the IWA World Congress on Water, Climate & Energy 2012, Dublin Convention Centre, 13 - 18 May 2012, http://iwa-wcedublin.org/. Contact Dr. Patrick Fournet, patrick.fournet@ucd.ie.
More information
Lancaster University: Martin Gilmore, m.gilmore@lancaster.ac.uk, +44.1524.510229
University College Dublin: Patrick Fournet, patrick.fournet@ucd.ie, +353.87.9052548
Event Sponsors
Mon 19 December 2011
---