---
Sailor turns psychologist with the help of Lancaster University
Story supplied by LU Press Office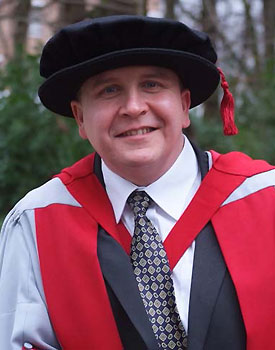 A former sailor who left school at sixteen has achieved a PhD in psychology at Lancaster University.
James Stack, 39 and from St Helens, said: "It's changed my life because I was very unsure when I came here but everyone has been so supportive. My abiding memory of my time at Lancaster is how friendly people are and that has given me confidence."
After leaving school, he joined the Royal Fleet Auxiliary Arm, working all over the UK, but he never felt satisfied.
"It wasn't really me so I left and ever since then I've done various jobs, working on building sites and labouring. But I felt unfulfilled and I wanted to test myself and see how far I could go."
With no formal qualifications, he enrolled on an Access course at St Helen's College, studying social science.
"That was daunting because I'd been out of education for so long. I wasn't interested in studying when I was at school but when you're older, you have a different set of priorities."
This was followed by a first class psychology degree at Edge Hill University, then an MA and PhD in psychology at Lancaster University.
James lived at home in St Helens and concentrated on his studies.
"I didn't know what I was capable of doing but I thought if I pushed myself, I'd get further. So I decided to work harder than everyone else because I had this desire to test myself."
His ambition paid off when he achieved a PhD and is now applying for postdoctoral researcher roles at Lancaster University.
His supervisor Professor Charlie Lewis said: "James has conducted a fascinating series of studies on how babies develop an understanding of other people. His success at Lancaster shows that students do not have to come straight from school. Indeed PhD candidates with experience of other fields often bring new ideas to their research and James has certainly done that."
Wed 14 December 2011
---