---
LEC student spends study abroad year working for NASA
Story supplied by LU Press Office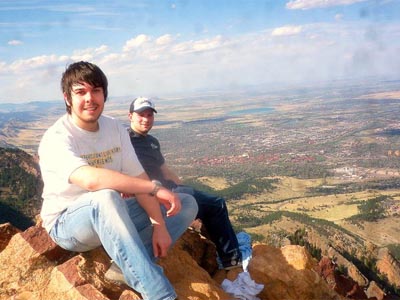 Daniel Sayle's love affair with the United States began as an A-level student in the Isle of Man when he won a summer scholarship to study at NASA's United Space School in Houston, Texas.
While studying Geography at Lancaster Environment Centre, he had no doubt where he wanted to go for his study abroad year.
"I knew I wanted to go back to the USA. I admired the people with their positive attitude to life. I loved the American culture and the whole way of life."
He chose Colorado University at Boulder where he got involved in space research through the Colorado Space Grant Consortium, which is funded by NASA with the aim of providing students with hands-on experience of satellite payload projects.
His experience culminated in his being present at the launch of the NASA Glory Mission in California - a space grant satellite called HERMES was aboard as a secondary payload.
"The launch was a failure but it was an incredible opportunity to have been at the heart of the American space programme because I was part of the team. I was also involved in working for the Laboratory for Atmospheric and Space Physics research institute, which put the first ever spacecraft into orbit around Mercury and I had the chance to operate the Kepler space telescope which recently found a potentially habitable planet.
"Getting such opportunities to work for NASA is only achievable in the US. Only in America!
"I also went down to New Orleans as a volunteer helping to rebuilt homes after Hurricane Katrina and I went to Washington to lobby Congress on environmental policy as part of the Campus to Congress Campaign."
Daniel also made the most of the chance to travel, visiting New York, the Grand Canyon, Las Vegas and San Francisco. He is now an ambassador for the US Fulbright Commission, giving talks on his experiences in the US.
"I want to work here for a few years and then do a PhD in the United States back at Boulder. Study Abroad has changed my life. The US is a great country and anyone with a passion and belief can create their own American Dream."
Mon 23 January 2012
---