---
Digital Learning Prize for Lancaster Student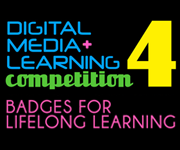 Richard Mills, a postgraduate student in the Mathematics and Statistics Department, has won a prize of $20,000 from the US Macarthur Foundation in the Digital Media and Learning Research Doctoral Student competition.
The prize, one of two awarded, was for the most novel and effective work by a doctoral student on exploring and facilitating learning in online communities. The money will be used to extend Richard's doctoral research into the use of badges and trophies in online learning communities and the behaviour of users in such systems.
You can read Richard's winning proposal, "Exploring the motivational effects of badges - who do badges appeal to and why?", on the DML Competition website.
Tue 21 February 2012
---