---
LEC's Graduate Consultancy Scheme helps Ugandan farmers adapt to climate change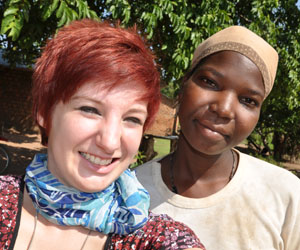 LEC's Graduate Consultancy Scheme has been running for over 5 years and has placed in the region of 300 students in industrial settings. The scheme is designed to provide businesses with access to the skills and expertise of high calibre current university postgraduates and undergraduates.
Michelle Clarke, BA in Geography, spent two weeks in Uganda with the company Nile Teas Ltd. She explains "They produce a hibiscus drink called "Simply Hibi" which they sell to the UK market and East African markets. It provides an extra income for subsistence farmers in Uganda. I was looking at how the farmers are adapting to climate change and potential solutions to the issue in the area.
Working on a research project in Uganda is one of the most exciting opportunities I've ever had. The people I met and the fantastic experience I had that meant I didn't want to leave at the end of the two weeks! I am aiming to go back this summer to carry on with my research and see all the wonderful people I met on my last trip, and to see how the project unfolds."
David Ainsworth, Student Placement Manager, commented: "Transnational projects such as this provide fantastic opportunities for students and business. Lancaster is well placed for Environmental Science and Geography students, being close to National Parks, upland areas, coastal environments, and large cities, but to extend placement opportunities beyond the local area can further enhance student experience, whilst providing benefits to international business.
We are currently working to deliver more placements such as Michelle's, through our KARIM project, with companies in Northwest Europe, and have already placed a number of students in France and Ireland. Whether it's a Northwest business or an international organisation like Nile Teas Ltd., our high quality graduates use their skills and enthusiasm to form partnerships, make a difference and deliver real impact."
To find out more about the LEC's Graduate Consultancy Scheme watch the latest film which includes an overview of the different types of projects from David Ainsworth, Student Placement Manager, comment from Dr. Andy Jarvis, Associate Director for Postgraduate study, and Zareena Longdale, of HR consultancy People:id, who facilitates half day training sessions to prepare the students for work with industry.
Fri 20 April 2012
---