---
Lancaster's New Head of Chemistry
Story supplied by LU Press Office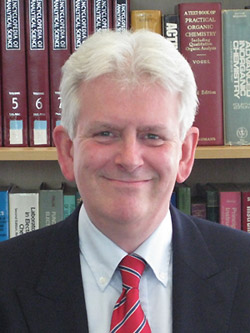 Lancaster University has appointed a Head of Chemistry, as it prepares to open its doors to chemistry students again in October 2013.
Professor Peter Fielden comes to Lancaster from Manchester University. He graduated in Chemistry from Imperial College, London, and was later awarded a PhD at UMIST. Professor Fielden chairs the Royal Society of Chemistry Electroanalytical Sensing Systems Group and is a Scientific Advisor to the UK government.
Professor Fielden is enthusiastic about Lancaster's new investment in chemistry: "This is an exciting time to be involved with Chemistry - and particularly so here at Lancaster University where there is a real sense of energy and enthusiasm for the new department.
"Students will have the opportunity to study on a completely new course in a highly-ranked university with a dynamic team of scientists who have been hand-picked for the job.
"I'm particularly looking forward to working across disciplines and alongside scientists, engineers and social scientists across the university and developing that track record of interdisciplinary work which is key to Lancaster's success."
The new chemistry department will benefit from Lancaster's strong track record of chemistry-related research.
Undergraduate chemistry students at lancaster will be able to take advantage of the opportunities which spring from studying on a freshly-created course. At postgraduate level, The department will offer a challenging, research-led Masters programme, which will build on Lancaster's research and take advantage of industry relationships and placements.
Fri 28 September 2012
---