---
Catchment productivity is a key component in high CO2 emissions from lakes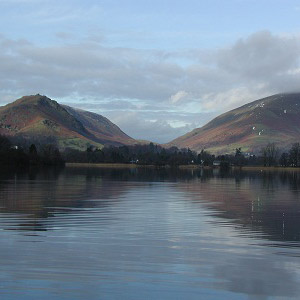 A new study shows that biologically productive lakes have higher than average concentrations of carbon dioxide (CO2) and consequently higher losses of CO2 to the atmosphere. The analysis, which examined data from 20 Cumbrian lakes collected over 26 years, was published in the journal Nature Climate Change this week and led by Prof Stephen Maberly at the NERC Centre for Ecology & Hydrology (CEH) working with colleagues from CEH and Lancaster University.
Most lakes are net sources of CO2 to the atmosphere. Previous studies attributed this net atmospheric loss of CO2 to the in-lake oxidation of terrestrially-produced dissolved organic carbon.
The results of the new study found that the main source of excess CO2 was inflowing streams delivering CO2 and carbonates from the catchment, rather than oxidation of organic carbon within the lake itself.
The study also showed that there was a strong positive correlation between lake CO2 concentration and total catchment productivity: the more productive catchments produced more organic carbon that, in these systems, was oxidised to CO2 in the catchment and entered the lakes via streams.
Prof Maberly, who is head of the Lake Ecosystem Group at the NERC Centre for Ecology & Hydrology, said, "This work underlines the high connectedness between lakes and their catchments and has implications for catchment management: increased productivity may result in increased losses of CO2 from the surface of a lake."
The research involved the Lake Ecosystem Group and Stable Isotope Facility at CEH's Lancaster site, in collaboration with Lancaster University scientist Prof Philip Barker, all of whom are based in the Lancaster Environment Centre. The study relied on monitoring in the English Lake District that began in the 1930s and which now offers a unique platform for investigating long term impacts of climate change. A large proportion of data analysed in the study was collected within monitoring programmes funded by the Environment Agency
Thu 22 November 2012
---