---
Free talks from Lancaster University statisticians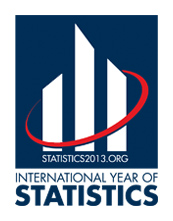 Experts from the Department of Mathematics and Statistics are to give free public talks as part of the 2013 International Year of Statistics.
They will explain how a knowledge of statistics can help with everything from drug safety to flood defences and renewable energy.
The first talk, on Wednesday 13 February at 7pm, is at Lancaster Royal Grammar School where Professor John Whitehead will invite some of the audience to take part in a mock clinical trial for an imaginary new drug to showcase the issues involved in opinion-based medical research.
Other talks include:
What has statistics got to do with fighting disease in Africa? by Professor Peter Diggle on 13 March at 7pm at Queen Elizabeth School, Kirkby Lonsdale
Predicting the Unpredictable by Professor Jonathan Tawn on 24 April at 7pm at Lancaster Girls Grammar School
Tickets are free but registration is required. To register, go to www.maths.lancs.ac.uk/iys or call 01524 593067.
Fri 08 February 2013
---