---
Visit to LEC from Kirkham Grammar School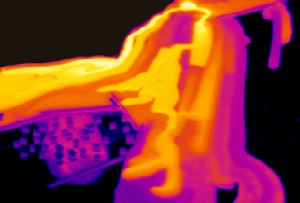 On Wednesday 13 February 18 Upper 6th year Geography students from Kirkham Grammar School visited LEC to experience some of our work in volcanology.
The students spent the morning exploring the fluid dynamics of volcanic conduits with a two-phase flow laboratory experiment, and understanding lava flow processes through thermal imaging and hot wax simulations.
The visit was one in an annual series to give school pupils a taste of university research. Mike James & Steve Lane
Image caption:
Investigating the effectiveness of barriers for protecting a model village from hot wax 'lava' flows. The thermal image shows the hotter, most recent flows as warmer colours (yellow-white). How long will the village survive?
Fri 08 March 2013
---