---
LEC Volcanology Field Course sees erupting Mount Etna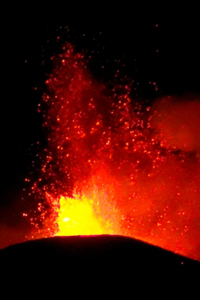 Students on the annual LEC Volcanic Processes field course to Mt. Etna, Sicily were treated to a visual feast as they witnessed the volcano in action. Although Mt. Etna is recognised as a highly active volcano, the recent activity has been highly sporadic, and seeing activity is never guaranteed.
The 2013 field course comprised 21 undergraduate and postgraduate students, along with two European visiting students. Whilst viewing the summit region from a nearby ridge, we were able to observe ashy exhalations from a new cone that started to grow in 2011. But this was only the start; activity the next day increased to near-continuous explosions that were sufficiently loud they could be both felt and heard. Etna turned it up again in the evening and put on a night-long fire show. Even that wasn't the end - large grey ash-rich plumes were produced on Friday morning that caused many flights from Sicily to be delayed or cancelled. Fortunately, the volcano was quiet again by the time we had to catch flights home.
To see more of our trip, visit our Flickr photo collection.
Fri 10 May 2013
---